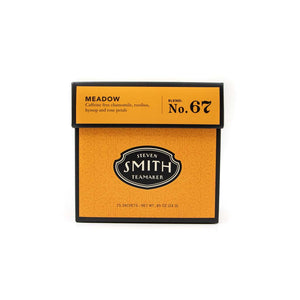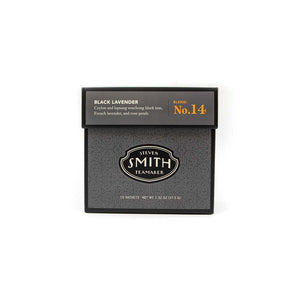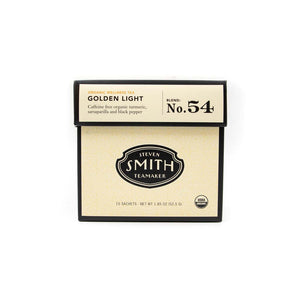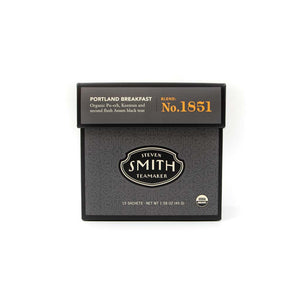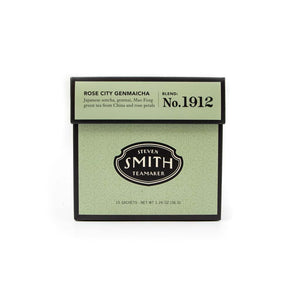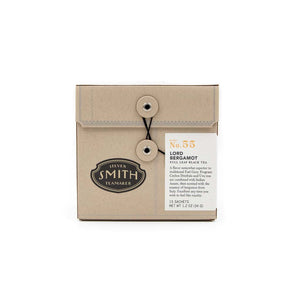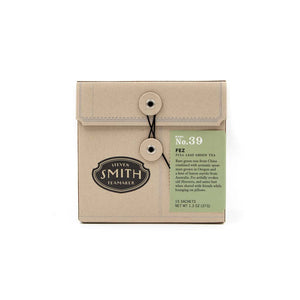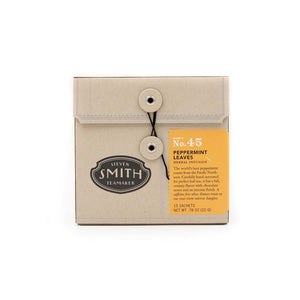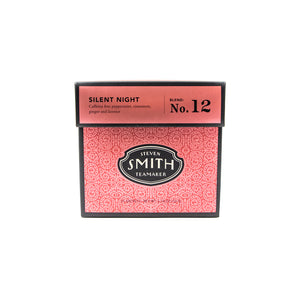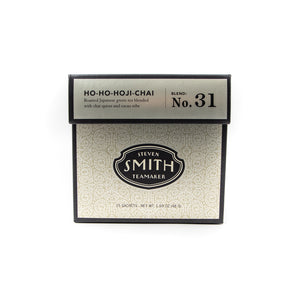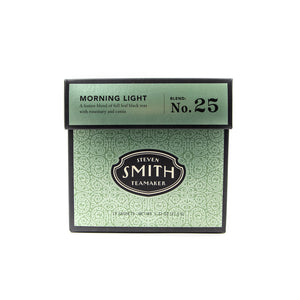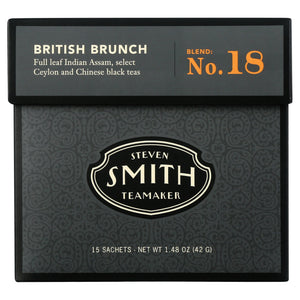 Product image 1

Product image 2

Product image 3

Product image 4

Product image 5

Product image 6

Product image 7

Product image 8

Product image 9

Product image 10

Product image 11

Product image 12

Product image 13
Product image 14
Product image 15
Product image 16
Enjoy a cup of tea with Smith Tea, made in small batches in Portland, Oregon. Their tea is certified by the California Certified Organic Farmers and the USDA.
Each carton comes with 15 satchels.
Fez:
Ingredients: Spring harvested full leaf Mao Feng China green tea, Pacific Northwest spearmint leaves and Australian lemon myrtle.
Tasting notes: Fall squash, lemon, mint
Rose City Genmaicha:
Ingredients: Japanese sencha, genmai (roasted rice), Mao Feng green tea from China, red and pink rose petals, natural flavors, bergamot oil.
Tasting notes: Toast, umami, bergamot
Lord Bergamot:
Ingredients: Ceylon Dimbula, Uva and Indian Assam full leaf teas and natural bergamot flavor.
Tasting notes: Malt, honey, citrus
Black Lavender:
Ingredients: Ceylon and Zheng Shan black teas, French lavender, red rose petals, black currant and vanilla natural flavor.
Tasting notes: Crème Brûlée, leather, sweet berry wine
Jasmine Silver Tip:
Ingredients: China full leaf green tea scented with jasmine blossoms.
Tasting notes: Jasmine, steamed greens, brown sugar
Meadow:
Ingredients: Egyptian chamomile, South African rooibos, fragrant hyssop, linden flowers, lemon myrtle, rose petals, safflower, cyani flowers and natural flavors.
Tasting notes: Chamomile, apple, honey
Peppermint Leaves: 
Ingredients: Peppermint leaves from the Pacific Northwest.
Tasting notes: Mint, sugar, chocolate
Portland Breakfast: 
Ingredients: A blend of organic second flush Assam, organic Pu-erh and organic Keemun black teas.
Tasting notes: Malt, leather, peat
Golden Light: 
Ingredients: Organic turmeric, organic sarsaparilla, organic cardamom, organic black pepper, and organic lemon essential oil.
Tasting notes: Vanilla frosting, lemon snap, white oak 
Mao Feng Shui: 
An antioxidant-rich green tea from Zhejiang China with a sweet, fresh taste and aroma. 
Ingredients: Spring harvested full leaf green tea from China.
Tasting notes: sweet potato, butter, daffodil
Big Hibiscus: 
Ingredients: Hibiscus flowers, Indian sarsaparilla root, ginger root, natural flavors, rose petals, elder flowers and lemon myrtle.
Tasting notes: Hibiscus, vanilla, ginger

shipping + return policy
What is your refund/exchange policy?
We are happy to refund you for the full amount of the purchase within 15 days of the original purchase date. The item must be in its original salable condition, and in original packaging. After 15 days has passed, items can be exchanged within 30 days of purchase.
A printed or emailed receipt is required for all returns and exchanges. If the purchase was made online, customers are responsible for any additional shipping costs for returns and exchanges. If there is an issue with the product, let us know ASAP.
All custom sales or orders are final sale. No returns, refunds or exchanges.
What is your refund/exchange policy on Last Call products? 
All last call products are final sale and cannot be returned. You will not be able to exchange, get store credit or a refund for these products. 
Can I return food items?
Yes, as long as they are still sealed, re-sellable and within the return period with a receipt of purchase.
How soon are orders processed and shipped?
We typically fulfill orders within 1-4 business days. We ship USPS Priority for all domestic orders.
Do you ship internationally?
Yes! We ship via USPS Priority International, and you can receive a quote at checkout. Please note, there are a few items (such as knives) that we cannot ship internationally.
Meet the Maker
Portland, Oregon
Our story begins with Steven Smith, a natural born teamaker from Portland, Oregon since 1949. First as co-founder of Stash, then as tea shaman of Tazo, Steve made a worldwide name for himself through his deep understanding of tea—culminating in this, his signature brand, concocted in...
VIEW MORE