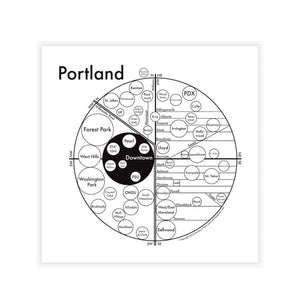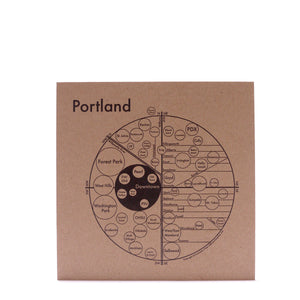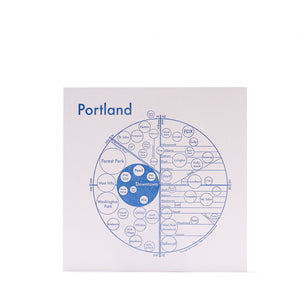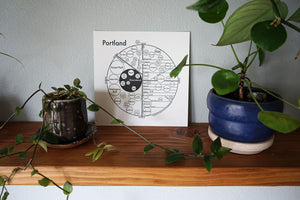 Product image 1

Product image 2

Product image 3

Product image 4

Archie's original neighborhood map, inspired by a drawing on a napkin. The five quadrants are explained in a simple harmony. The design of this neighborhood map is meant to be both beautiful and useful.
This describes the central skeleton of the city, along with the neighborhoods that have grown out of it. The original sketch came from a question many visitors and recent immigrants ask: "What's North Portland?". The longer Archie lived here, the more it grew to include as many neighborhoods as possible.
ABOUT THE IDEA
Information is more fun to read when it's beautiful. Archie has designed these charts and maps with hours of research, reassembling data into a brain-friendly aesthetic. I edit the information significantly, avoiding the "dazzle" effect which occurs when our eyes are battered with too much information. Letterpress makes it even more gorgeous.
ABOUT LETTERPRESS PRINTING
Letterpress is a very complicated and expensive printing method that Archie is obsessed with. All letterpress prints are slammed with 600 pounds of pressure, creating a deep, tactile texture. The ink gets embedded into the thick soft paper so it won't fade within your lifetime.
Print measures 8" x 8".
shipping + return policy
What is your refund/exchange policy?
We are happy to refund you for the full amount of the purchase within 15 days of the original purchase date. The item must be in its original salable condition, and in original packaging. After 15 days has passed, items can be exchanged within 30 days of purchase.
A printed or emailed receipt is required for all returns and exchanges. If the purchase was made online, customers are responsible for any additional shipping costs for returns and exchanges. If there is an issue with the product, let us know ASAP.
All custom sales or orders are final sale. No returns, refunds or exchanges.
What is your refund/exchange policy on Last Call products? 
All last call products are final sale and cannot be returned. You will not be able to exchange, get store credit or a refund for these products. 
Can I return food items?
Yes, as long as they are still sealed, re-sellable and within the return period with a receipt of purchase.
How soon are orders processed and shipped?
We typically fulfill orders within 1-4 business days. We ship USPS Priority for all domestic orders.
Do you ship internationally?
Yes! We ship via USPS Priority International, and you can receive a quote at checkout. Please note, there are a few items (such as knives) that we cannot ship internationally.
Meet the Maker
Portland, Oregon
Archie's Press makes simple maps and charts, breaking down ideas and places to their most essential elements. Each subject is researched with a professional to ensure the information is the most essential, and tirelessly edited to make it as easy to understand as possible. Why circles? They're the...
VIEW MORE