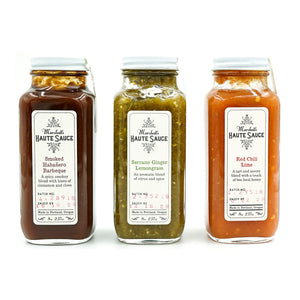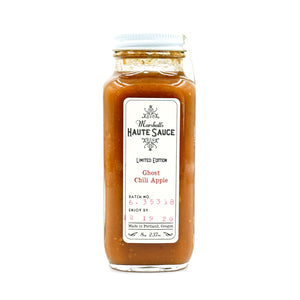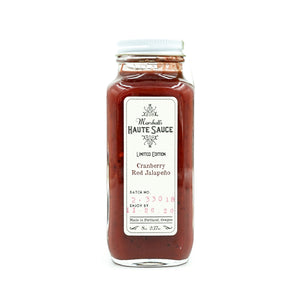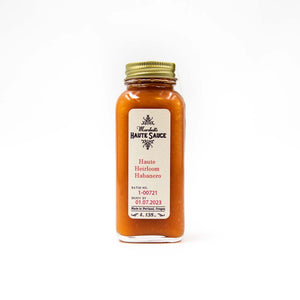 Product image 1

Product image 2

Product image 3

Product image 4

Small batch sauces crafted with locally sourced ingredients.
8oz bottle
Flavors
Serrano Ginger Lemongrass
This sauce uses citrus to balance the heat of the serrano and bridge the aromatic qualities of ginger and lemongrass. The chili has a delayed fuse due to the added sweetness.
Habanero Carrot Curry
This sauce is an exotic blend of hot and sweet.  Habaneros are known for their intense heat but this sauce focuses on flavor. It brings strong notes of citrus and floral elements.
Red Chili Lime
This sauce has a bold color and is smooth in texture.  The heat comes up front followed by sweetness. Modeled after bento sweet chili sauce, removing corn syrup and including local honey instead.
Ghost Chili Apple
Limited Edition Ghost Chili Apple Haute sauce. It packs the most heat of all Marshall's sauces, while delivering a lovely fall flavor profile. They use local Honeycrisp apples to beat the heat and deliver a natural sweetness.
Smoked Habanero Barbeque
This sauce won first place in the national sauce competition, The Scovie Awards. This is not your traditional hot sauce.  This sauce was created by deconstructing traditional big name sauces and eliminating common allergens (gluten, anchovies, worcestershire, corn starch) and replacing them with spices and vegetables. Marshall's has created a product that is easily accessible to all BBQ fans. It contains a unique spice blend with the essence of cinnamon and clove. It has a smokey, sweet, and savory flavor with a mild heat.
Whiskey Smoked Ghost
Marshall's loves teaching and passing on knowledge, for them it is through canning and preserving and for Uncle Nearest it was through distilling. To honor his family, name, and teaching Marshall's created a sauce inspired by the story. They slow roasted onions in Uncle Nearest 1856 Whiskey and apple cider vinegar to make it slightly sweet, then rehydrated dates and dried ghost peppers in whiskey and vinegar. It is a spicy, tangy, smokey sauce- cheers to passing on knowledge.
Cranberry Red Jalapeño
The flavors begin with the tang of Oregon cranberries and fresh lime juice, followed by Red Jalapeños and finishing with cinnamon, clove, ginger, and star anise.

Hatch Sesame Balsamic
Los Roast New Mexico grown red hatch chilies are slow roasted over open flames. Then add white balsamic vinegar imported from Italy, lime juice, and tons of spices (toasted sesame seeds, coriander, cumin to name a few). Perfect for hot wings, pizza sauce, and melted with butter to dip crab in.

Gin Roasted Pepper
This sauce is Marshall's labor of love. It takes four days to produce 30 bottles of this sauce, and it is well worth it. It starts with rehydrating dried peppers (Chile de Arbol and Guajillo) in Dogwood Distilling's Union Gin. The gin leaves the peppers with a lovely botanical essence. They are then blended with roasted heirloom sweet red peppers from Rick Stephen Farms, that Marshall's has roasted, skinned and seeded. They finish it with some garlic, lime juice, Bee Local Honey, and Jacobsen Sea salt. Awesome with fajitas!

shipping + return policy
What is your refund/exchange policy?
We are happy to refund you for the full amount of the purchase within 15 days of the original purchase date. The item must be in its original salable condition, and in original packaging. After 15 days has passed, items can be exchanged within 30 days of purchase.
A printed or emailed receipt is required for all returns and exchanges. If the purchase was made online, customers are responsible for any additional shipping costs for returns and exchanges. If there is an issue with the product, let us know ASAP.
All custom sales or orders are final sale. No returns, refunds or exchanges.
What is your refund/exchange policy on Last Call products? 
All last call products are final sale and cannot be returned. You will not be able to exchange, get store credit or a refund for these products. 
Can I return food items?
Yes, as long as they are still sealed, re-sellable and within the return period with a receipt of purchase.
How soon are orders processed and shipped?
We typically fulfill orders within 1-4 business days. We ship USPS Priority for all domestic orders.
Do you ship internationally?
Yes! We ship via USPS Priority International, and you can receive a quote at checkout. Please note, there are a few items (such as knives) that we cannot ship internationally.
Meet the Maker
Portland, Oregon
Marshall's Haute Sauce brings delicious fresh and local small batch products to those that will love them. We are designed for worry free farm-to-table utilization. We buy local whenever possible and get our produce at the farmers markets we work at. The farmers market is our...
VIEW MORE