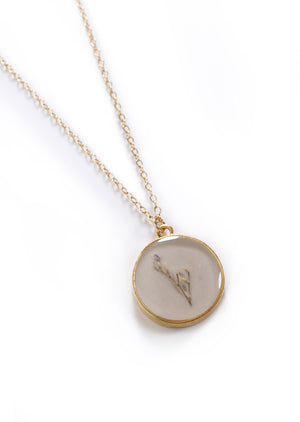 Lavender on White Circle Pendant Long 14k GF by Lace & Pearls Jewelry
Bring a little nature and a lot of style to your look with this pressed flower pendant necklace! A neutral flower hanging from a gold plated chain - perfect for adding a touch of cottage-cool to your wardrobe. 
Materials: gold-plated chain, pewter pendant plated in 24k gold, resin and lavender 
shipping + return policy
What is your refund/exchange policy?
We are happy to refund you for the full amount of the purchase within 15 days of the original purchase date. The item must be in its original salable condition, and in original packaging. After 15 days has passed, items can be exchanged within 30 days of purchase.
A printed or emailed receipt is required for all returns and exchanges. If the purchase was made online, customers are responsible for any additional shipping costs for returns and exchanges. If there is an issue with the product, let us know ASAP.
All custom sales or orders are final sale. No returns, refunds or exchanges.
What is your refund/exchange policy on Last Call products? 
All last call products are final sale and cannot be returned. You will not be able to exchange, get store credit or a refund for these products. 
Can I return food items?
Yes, as long as they are still sealed, re-sellable and within the return period with a receipt of purchase.
How soon are orders processed and shipped?
We typically fulfill orders within 1-4 business days. We ship USPS Priority for all domestic orders.
Do you ship internationally?
Yes! We ship via USPS Priority International, and you can receive a quote at checkout. Please note, there are a few items (such as knives) that we cannot ship internationally.
Close (esc)
join our community!
Stay updated on all things MadeHere.
Age verification
By clicking enter you are verifying that you are old enough to consume alcohol.