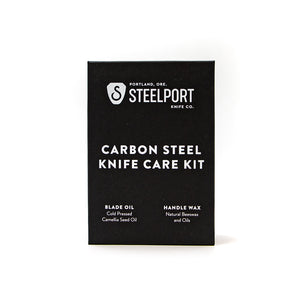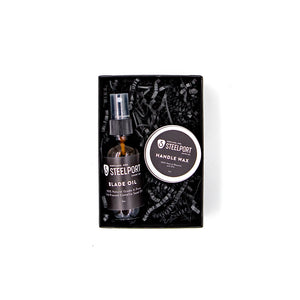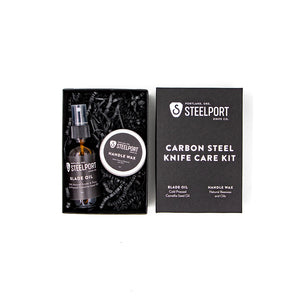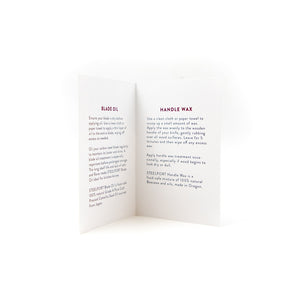 Product image 1

Product image 2
Product image 3

Product image 4

Carbon Steel Knife Care Kit by STEELPORT
Keep your carbon steel knife dry. Day to day care is as simple as hand-washing and drying your knife immediately after use. Use blade oil and handle wax regularly to protect and maintain the luster of your carbon steel blade and wood handle for years to come.
Comes with instructions.
BLADE OIL
Ensure your blade is dry before applying oil. Use a clean cloth or paper towel to apply a thin layer of oil to the entire blade, wiping off excess as needed.
Oil your carbon steel blade regularly to maintain its luster and shine. A blade oil treatment is especially important before prolonged storage. The long shelf life and lack of odor and flavor make STEELPORT Blade Oil ideal for kitchen knives.
STEELPORT Blade Oil is food-safe 100% natural Grade A Pure Cold Pressed Camellia Seed Oil.
HANDLE WAX
Use a clean cloth or paper towel to scoop up a small amount of wax. Apply the wax evenly to the wooden handle of your knife, gently rubbing over all wood surfaces. Leave for 5 minutes and then wipe off any excess wax.
Apply handle wax treatment occasionally, especially if wood begins to look dry or dull.
STEELPORT Handle Wax is a food-safe mixture of 100% natural Beeswax and oils, made in Oregon.
shipping + return policy
What is your refund/exchange policy?
We are happy to refund you for the full amount of the purchase within 15 days of the original purchase date. The item must be in its original salable condition, and in original packaging. After 15 days has passed, items can be exchanged within 30 days of purchase.
A printed or emailed receipt is required for all returns and exchanges. If the purchase was made online, customers are responsible for any additional shipping costs for returns and exchanges. If there is an issue with the product, let us know ASAP.
All custom sales or orders are final sale. No returns, refunds or exchanges.
What is your refund/exchange policy on Last Call products? 
All last call products are final sale and cannot be returned. You will not be able to exchange, get store credit or a refund for these products. 
Can I return food items?
Yes, as long as they are still sealed, re-sellable and within the return period with a receipt of purchase.
How soon are orders processed and shipped?
We typically fulfill orders within 1-4 business days. We ship USPS Priority for all domestic orders.
Do you ship internationally?
Yes! We ship via USPS Priority International, and you can receive a quote at checkout. Please note, there are a few items (such as knives) that we cannot ship internationally.