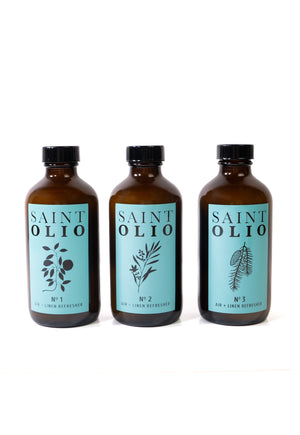 These Air + Linen Refreshers fragrance your world subtly and naturally in three addictive fragrances: Citron, Neroli and Sitka . A concentrated composition of essential oils, absolutes and flower waters create another way to bring Saint Olio's olfactory pleasures into your daily life. 
Mist your pillows, bedding & towels. Use in the air to freshen, deodorize & clean. Fabulous on sweaters and denim to minimize laundering. 
8oz / 240ml glass bottle (spritz included)
Scents

NO. 1 CITRON
Crisp Citrus + Lemongrass 
Luscious citrus fruit oils + lemongrass meld with sumptuous orange blossom to give your and your surroundings a juicy, uplifting aroma. 
Grapefruit: disinfectant, antidepressant
Sweet orange: fungicidal, bactericidal
Lemongrass: deodorizing, disinfectant
NO. 2 NEROLI
Geranium, Rose + Orange Blossom
Freshening, cleansing and beautifully fragranced. Spritz bedding and air liberally to benefit from this sensual scent.

Geranium: deodorizing, fungicidal
Rose: antiseptic, nerve tonic
Sweet orange: uplifting, bactericidal
Neroli: deodorizing, soothing

NO. 3 SITKA

Spruce, Juniper + Sweet Citrus
Grounding, herbaceous spruce & juniper harmonize with tangy citrus to bring the forest indoors. Mist your linens before bed to decompress from city living. Spritz everywhere to make your abode feel like a cozy cabin.
Spruce:  grounding, antidepressant
Juniper: deodorizing, bactericidal
Tangerine: uplifting, disinfectant
shipping + return policy
What is your refund/exchange policy?
We are happy to refund you for the full amount of the purchase within 15 days of the original purchase date. The item must be in its original salable condition, and in original packaging. After 15 days has passed, items can be exchanged within 30 days of purchase.
A printed or emailed receipt is required for all returns and exchanges. If the purchase was made online, customers are responsible for any additional shipping costs for returns and exchanges. If there is an issue with the product, let us know ASAP.
All custom sales or orders are final sale. No returns, refunds or exchanges.
What is your refund/exchange policy on Last Call products? 
All last call products are final sale and cannot be returned. You will not be able to exchange, get store credit or a refund for these products. 
Can I return food items?
Yes, as long as they are still sealed, re-sellable and within the return period with a receipt of purchase.
How soon are orders processed and shipped?
We typically fulfill orders within 1-4 business days. We ship USPS Priority for all domestic orders.
Do you ship internationally?
Yes! We ship via USPS Priority International, and you can receive a quote at checkout. Please note, there are a few items (such as knives) that we cannot ship internationally.
Meet the Maker
Portland, Oregon
We absorb everything we come into contact with - good and bad.  In our modern age there is an alarming amount that we come into contact with daily.  Saint Olio creates a healthy way to clean & refresh one's environment completely naturally. The power...
VIEW MORE