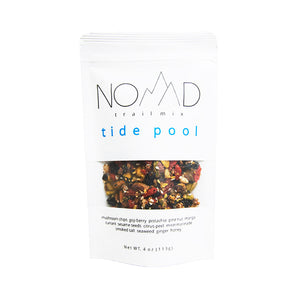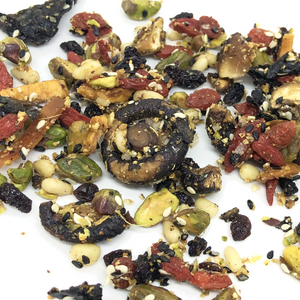 Product image 1

Product image 2

Umami! Inspired by the Oregon coast. A unique blend of shiitake mushrooms, pistachio, pine nuts, mango and goji berries. Seasoned with Japanese Mirin rice wine, cracked ginger, sesame seeds and toasted nori. Add it to your charcuterie board, sprinkle on a salad, or munch gourmet style on the trail.
4oz bag
Details
Nomad Mix combines nuts, seeds, dried vegetables and fruit into a healthy, flavorful and satisfying snack. Each mix is a blend of unique ingredients that are inspired by a love of food and a healthy eating. 
The small batch process consists of meticulously hand chopping the ingredients to the perfect mouth crunching size. Blended in a sequence that layers flavor throughout each cluster; no single bite is the same. 
Ingredients
Pistachio Nuts, Dried Goji Berries, Dried Zante Currants, Mushroom Chip (Shitake Mushroom, Non-hydrogenated Canola Oil, Dextrin, Salt), Dried Mango (Mango, Sugar, Citric Acid), Honey, Mirin (Water, Rice Cooking Wine, Sea Salt), Pinenuts, Black and White Sesame Seeds, Dried Ginger, Smoked Salt (Oregon Sea Salt, Cherry Wood Smoked Salt), Orange and Lemon Peel, Nori. 
Contains: Pistachio, Pinenuts.
shipping + return policy
What is your refund/exchange policy?
We are happy to refund you for the full amount of the purchase within 15 days of the original purchase date. The item must be in its original salable condition, and in original packaging. After 15 days has passed, items can be exchanged within 30 days of purchase.
A printed or emailed receipt is required for all returns and exchanges. If the purchase was made online, customers are responsible for any additional shipping costs for returns and exchanges. If there is an issue with the product, let us know ASAP.
All custom sales or orders are final sale. No returns, refunds or exchanges.
What is your refund/exchange policy on Last Call products? 
All last call products are final sale and cannot be returned. You will not be able to exchange, get store credit or a refund for these products. 
Can I return food items?
Yes, as long as they are still sealed, re-sellable and within the return period with a receipt of purchase.
How soon are orders processed and shipped?
We typically fulfill orders within 1-4 business days. We ship USPS Priority for all domestic orders.
Do you ship internationally?
Yes! We ship via USPS Priority International, and you can receive a quote at checkout. Please note, there are a few items (such as knives) that we cannot ship internationally.
Meet the Maker
Portland, Oregon
Growing up in the Pacific Northwest my childhood was spent fishing our beautiful rivers, camping our lush wilderness, and swimming in our frigid ocean. I would collect tadpoles, rummage the mossy forest floor for bones, rocks, feathers and other magical treasures. Creating arrangements in my room to...
VIEW MORE