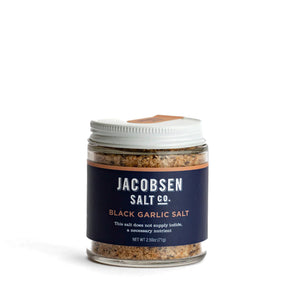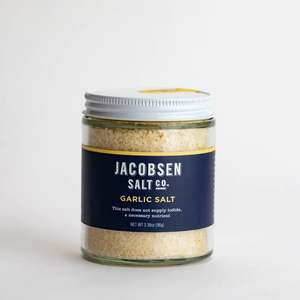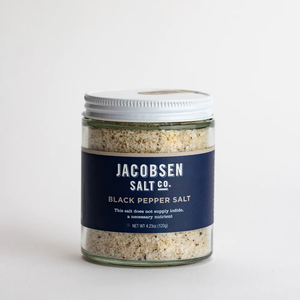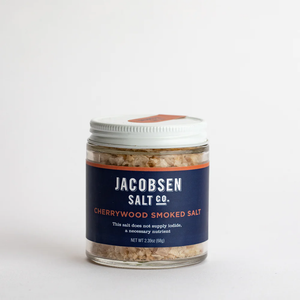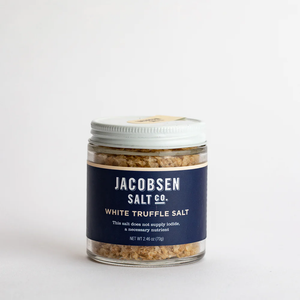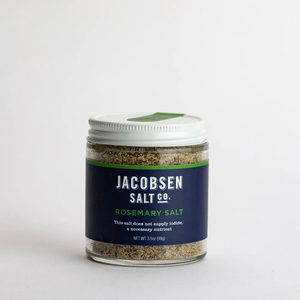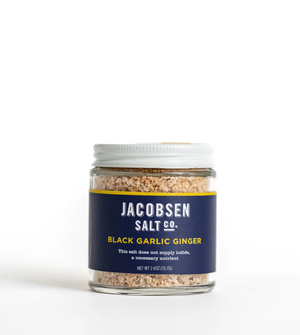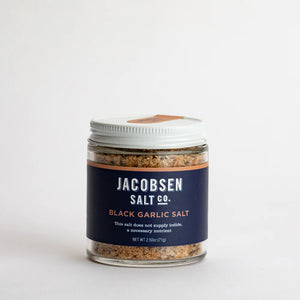 Product image 1

Product image 2
Product image 3

Product image 4
Product image 5

Product image 6

Product image 7
Product image 8

Product image 9

Product image 10
You have not lived until you've experienced Jacobsen's infused sea salts. Hand harvested from Netarts Bay on the Oregon Coast, and slowly infused with intense flavor concentrations. Give a little oomph to your finishing salt.
Varieties
Garlic
Fresh garlic makes this versatile salt work across a multitude of simple dishes – from warm dinner rolls with butter to crispy fingerling potatoes, grilled and sauteed vegetables, or classic roast chicken. Use this salt for cooking or as a finishing salt. 4.2oz jar.
Black Pepper
Combining the perfect mix of cracked pepper and pure flake sea salt, this salt's warm floral spice is perfect for dishes like salt and pepper squid, steak-fries, or baked potatoes with butter, sour cream and chives. Use this salt for cooking or as a finishing salt. 5.8oz jar.
Habanero
With a mild heat and earthy bitterness, this salt adds spice and zip to grilled sweet corn, pork carnitas, or summer melon and will elevate a dessert like watermelon sorbet. Use this salt for cooking, cocktails or as a finishing salt. 5.4oz jar.
Black Garlic
This Black Garlic Salt is a flavor bomb of sweetness matched with savory notes of caramelized garlic. 3.1oz jar.
Cherrywood Smoked
A partnership with Traeger Grills that combines 100% natural wood fire smoke with Jacobsen pure sea salt. 2.6oz jar.
Lemon Zest
This salt's clean, concentrated citrus flavor brightens dishes with a subtle lemon zing. 2.6oz jar.
White Truffle
Infused with Italian white truffle and white truffle tincture, this decadent salt adds that powerful aromatic flavor to dishes like seared beef tenderloin, popcorn, or grilled asparagus. This infused salt works best as a finishing salt. 3.1oz jar.
Pinot Noir
Notes of vanilla and sweet red fruit pair with earthy tones to perfectly finish braised beef, roasted beets, pasta with marinara, or summer berries with burrata. This infused salt works best as a finishing salt. 3.2oz jar.

Rosemary
Fresh rosemary is de-stemmed and infused into Jacobsen hand-harvested sea salt, giving it a vibrant green color. Herbal and citrus notes, combined with hints of pine and tea leaf, pair perfectly with  grilled or roasted lamb, stewed Tuscan kale, fried potatoes, or whole-wheat focaccia. Use this salt for cooking or as a finishing salt. 6.7oz jar.
Black Garlic Ginger 
Infused with JSC's house-fermented garlic and Burlap & Barrel's Buffalo Ginger, an heirloom variety grown in Northern Vietnam. This salt has a slightly sweet umami flavor with a punchy hit of ginger. Fancy up a batch of fries, your go-to noodle soup, or use it to season tofu, braised greens, and chicken.
shipping + return policy
What is your refund/exchange policy?
We are happy to refund you for the full amount of the purchase within 15 days of the original purchase date. The item must be in its original salable condition, and in original packaging. After 15 days has passed, items can be exchanged within 30 days of purchase.
A printed or emailed receipt is required for all returns and exchanges. If the purchase was made online, customers are responsible for any additional shipping costs for returns and exchanges. If there is an issue with the product, let us know ASAP.
All custom sales or orders are final sale. No returns, refunds or exchanges.
What is your refund/exchange policy on Last Call products? 
All last call products are final sale and cannot be returned. You will not be able to exchange, get store credit or a refund for these products. 
Can I return food items?
Yes, as long as they are still sealed, re-sellable and within the return period with a receipt of purchase.
How soon are orders processed and shipped?
We typically fulfill orders within 1-4 business days. We ship USPS Priority for all domestic orders.
Do you ship internationally?
Yes! We ship via USPS Priority International, and you can receive a quote at checkout. Please note, there are a few items (such as knives) that we cannot ship internationally.
Meet the Maker
Portland, Oregon
Founded in 2011, Jacobsen Salt Co. was the first company to harvest salt in the Pacific Northwest since Lewis & Clark built their salt works in 1805. Since then it has transformed from a local, small business to a nationally recognized brand as America's leading salt maker. Harvested...
VIEW MORE