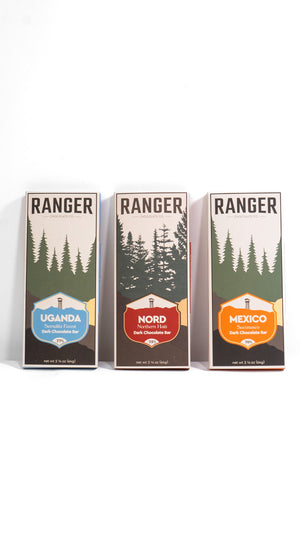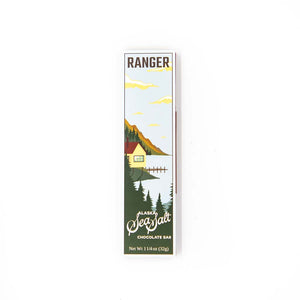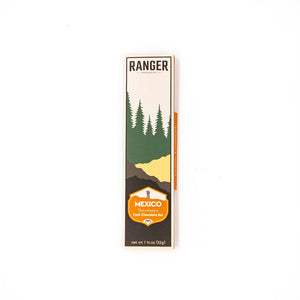 Product image 1

Product image 2
Product image 3
Product image 4
Product image 5
Product image 6
Product image 7
Product image 8

Product image 9
Product image 10

Product image 11
Product image 12
Product image 13
All Ranger Chocolate Bars are made with great care — from sourcing the best ingredients to controlled roasts, grinds, bar production.
The ingredients are simple: organic cacao and organic sugar.
Size Details
Small - .25oz (7g)
Standard - 1.25oz (35g)
Large - 2.25oz (64g)
Varieties
70% Piura, Peru
Grown in the Alto Piura Valley, these beans are considered some of Peru's most exquisite with a high level of white Criollo cacao. This rare variety produces a balanced chocolate with a smooth texture.
Tasting notes: cocoa forward with truffle and a black cherry finish.
70% San Martín, Peru
San Martín is a region in the upper part of the Peruvian Amazon rainforest. Ranger enjoys pairing it with hearty red wines and their favorite IPAs.
Tasting notes: earthy, cacao, strawberry, apricot, wine, chili pepper.
72% Salitral, Peru
A northern region of Peru close to Ecuador, this Criollo cacao bean was lightly roasted to help retain it's innate fruitiness. The finished bar is so fruit forward, one of Ranger's tasters described it as "juicy."
Tasting notes: stone fruit and honeysuckle with a bold strawberry finish.
75% Nord, Haiti
Nord is a well balanced bar made from beans grown in Northern Haiti. Ranger is honored to be one of the first makers in the United States to produce chocolate from their first harvest.
Tasting notes: butterscotch, cream and a hint of apple.
80% Chulucanas, Peru
Chulucanas is small community of men and women farmers in the northern Piura Region of Peru. Climbing the hills together, Ranger fell in love with their delicate and naturally sweet cacao beans.
Tasting notes: woodsy, tobacco, black walnut, raspberry.
80% Polochic, Guatemala
The Polochic Vally in southeastern Alta Verapaz, one of Guatemala's hottest micro-climates and is farmed by more than 50% female farmers. The unique climate in this region produces high quality cacao with a balanced chocolatey flavor.
Tasting notes: molasses and caramel.
Wildcard
Ranger's Wildcard bar allows their makers to work with different levels of sweetness and varieties of cacao — it could be a blend or a unique single origin bean — each batch is always a surprise.
66% Cacao Maple Sugar
Maple sugar is made by evaporating the water from maple sap, leaving behind pure maple sugar crystals. Maple sugar tends to have a sweeter taste. Paired with a bold fruit forward Trinitario cacao, the resulting chocolate bar has a unique flavor profile that you'll love.
Tasting notes: strawberry and maple.
Espresso
This bar strikes a balance between two of Ranger's most beloved items on the planet — chocolate and espresso. They collaborated with some of the best coffee roasters in Portland to produce a warm and welcoming bar.
Oregon Sea Salt
Part of the sea salt adventure series, exploring salt harvested from the Pacific Ocean. In Oregon, Ranger teamed up with their neighbors at Jacobsen Salt Co, pairing their Pure Flake Finishing Salt with their beloved Salitral cacao beans from Peru. Sea salt is turned into the chocolate to add texture and retain its true flavor.

Japan Sea Salt
Another bar in the sea salt adventure series, exploring salt harvested from the Pacific Ocean. Ranger teamed up with their friends at Bitterman Salt Co to pair the exquisite Japanese Hana Flake Sea Salt with cacao beans from the Semuliki Forest in Uganda. Sea salt is turned into the chocolate to add texture and retain its true flavor.

Alaska Sea Salt
Ranger's sea salt adventure explores salt harvested from the Pacific Ocean. For Alaska, they teamed up with their friends at Bitterman Salt Co. Ranger paired the pristine Alaska Pure Flake Sea Salt with Ranger's Makers blend of cacao. Sea salt is turned into the chocolate to add texture and retain its true flavor.
Classic Dark

This classic dark chocolate bar is made with a blend of organic premium cacao beans. This chocolate is well balanced to provide a consistent dark chocolate experience. It's great with a glass a wine or melted down into a drinking chocolate – your new go-to dark chocolate bar.
Uganda

In the Western Region of Uganda, Semuliki Forest cacao is grown by over 1,000 farmers — with 504 women farmers. Supported by the social enterprise Latitude Trade Co., farmers achieve higher incomes through premium quality, environmental sustainability and transparent trade. Tasting Notes: balanced, black currant, dark red cherry, hibiscus
Mexico
The Soconusco region is the birthplace of cacao in Mexico, where they've been growing this crop for 4,000 years. This cacao comes from a small network of farmers dedicated to rescuing local heirloom varietals. The resulting chocolate is unique and deeply complex. Savor the history in every bite. Tasting Notes: juicy, mango, grapefruit, white grape, juniper.
100
Sugar-free, with Batch 8, Ranger 100 uses beans from the Polochic Valley, one of Guatemala's hottest microclimates. These high quality premium beans helped us produce a single ingredient bar that is bold yet approachable. Ranger 100 is available in one size, 2 1/4 oz. (64g)
shipping + return policy
What is your refund/exchange policy?
We are happy to refund you for the full amount of the purchase within 15 days of the original purchase date. The item must be in its original salable condition, and in original packaging. After 15 days has passed, items can be exchanged within 30 days of purchase.
A printed or emailed receipt is required for all returns and exchanges. If the purchase was made online, customers are responsible for any additional shipping costs for returns and exchanges. If there is an issue with the product, let us know ASAP.
All custom sales or orders are final sale. No returns, refunds or exchanges.
What is your refund/exchange policy on Last Call products? 
All last call products are final sale and cannot be returned. You will not be able to exchange, get store credit or a refund for these products. 
Can I return food items?
Yes, as long as they are still sealed, re-sellable and within the return period with a receipt of purchase.
How soon are orders processed and shipped?
We typically fulfill orders within 1-4 business days. We ship USPS Priority for all domestic orders.
Do you ship internationally?
Yes! We ship via USPS Priority International, and you can receive a quote at checkout. Please note, there are a few items (such as knives) that we cannot ship internationally.