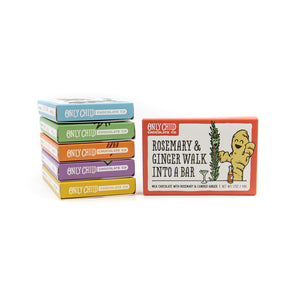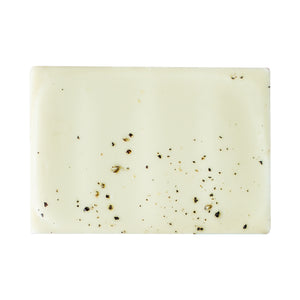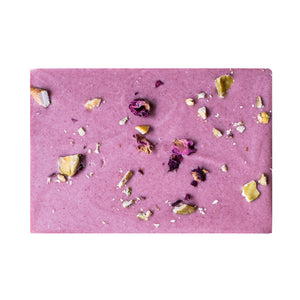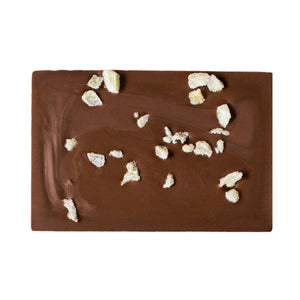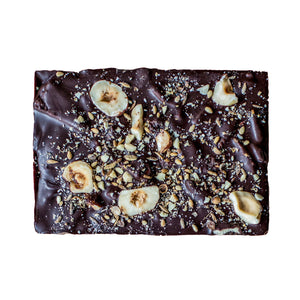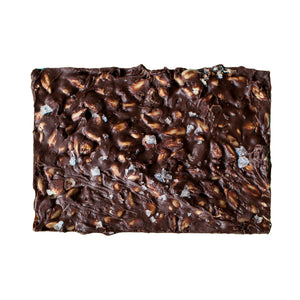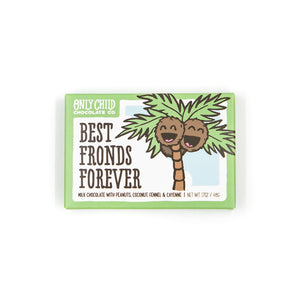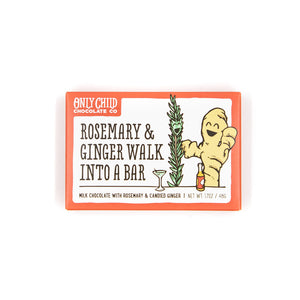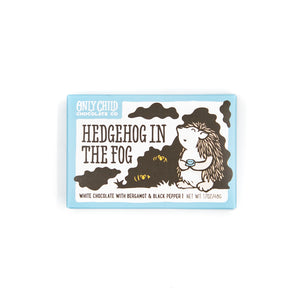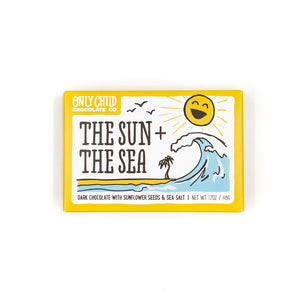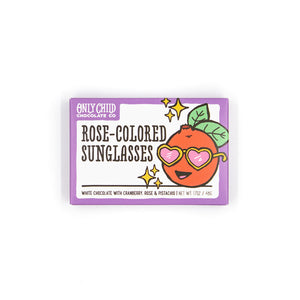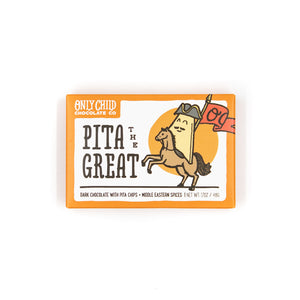 Product image 1

Product image 2

Product image 3

Product image 4

Product image 5

Product image 6

Product image 7
Product image 8

Product image 9

Product image 10

Product image 11

Product image 12

Product image 13
Chocolate Bars by Only Child Chocolate Co.
Only Child Chocolate's philosophy is that every shade of chocolate deserves its spotlight, it's all about finding the right flavor pals to make them shine!
1.7oz bars
Varieties
The Sun & The Sea
Yana's favorite past time as a child was snacking on sunflower seeds, shelling and squirreling away tiny seed after seed behind her cheek. In this bar, she brought together toasted sunflower seeds with sea salt and dark chocolate, for a crunchy treat that will make you grin.
Rosemary & Ginger Walk into a Bar
One of Yana's greatest pleasures, walking along the verdant streets of Portland, is pinching a bit of rosemary between her fingers. This bar marries that wonderful scent with the luxury of milk chocolate and the zing of candied ginger. 
Hedgehog in the Fog
The name of this bar was inspired by a cartoon Yana watched as a child in Russia. Hedgehog in The Fog is about a timid hedgehog looking for his friend the bear in a mist enveloped forest, so they could meet for tea. Foggy white chocolate is blended with bergamot, the signature flavor in Earl Grey tea, and topped off with freshly ground, prickly black pepper. Sweet, yet spiky.
Rose-Colored Sunglasses
A perfect treat for when you need a little optimism in your life. Rose-Colored Sunglasses bar is made from an Ecuadorian white chocolate ground for 24 hours with cranberries and kissed with rose oil. It's then finished off with rose petals and slow roasted pistachios. Sweet, tart, and floral with just a bit of nuttiness!
Pita the Great
Three cheers for Pita the Great! A rousing ride of dark chocolate, oven-toasted pita chips, Oregon-grown hazelnuts and dukkah, a fragrant mix of seeds and spices. Yana uses only the best of the best: the pita is made by her favorite Portland Lebanese restaurant, Ya Hala; the hazelnuts are grown by Freddy Guys Hazelnuts; and the spice mix is lovingly toasted and ground herself. Long live the chocolate bar!
Best Fronds Forever
A milk chocolate bar featuring salted peanuts, aromatic fennel, coconut slices, and a touch of cayenne. It's a tropical breeze and the warming of sunshine in a bar. It's also a bit like a great friendship - it's salty, sweet, crunchy, and spicy and it's somehow just right - you can't imagine it being any other way once you've gotten a taste.
shipping + return policy
What is your refund/exchange policy?
We are happy to refund you for the full amount of the purchase within 15 days of the original purchase date. The item must be in its original salable condition, and in original packaging. After 15 days has passed, items can be exchanged within 30 days of purchase.
A printed or emailed receipt is required for all returns and exchanges. If the purchase was made online, customers are responsible for any additional shipping costs for returns and exchanges. If there is an issue with the product, let us know ASAP.
All custom sales or orders are final sale. No returns, refunds or exchanges.
What is your refund/exchange policy on Last Call products? 
All last call products are final sale and cannot be returned. You will not be able to exchange, get store credit or a refund for these products. 
Can I return food items?
Yes, as long as they are still sealed, re-sellable and within the return period with a receipt of purchase.
How soon are orders processed and shipped?
We typically fulfill orders within 1-4 business days. We ship USPS Priority for all domestic orders.
Do you ship internationally?
Yes! We ship via USPS Priority International, and you can receive a quote at checkout. Please note, there are a few items (such as knives) that we cannot ship internationally.