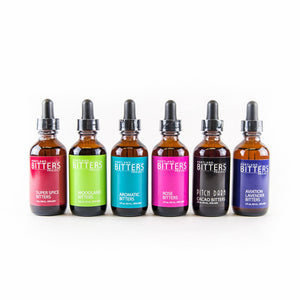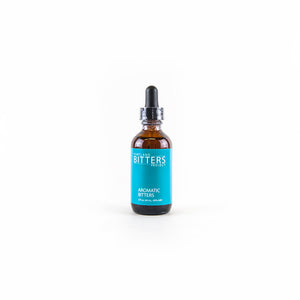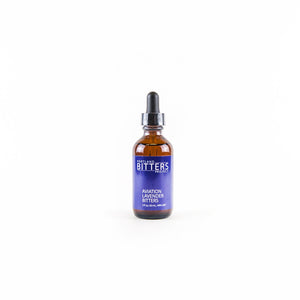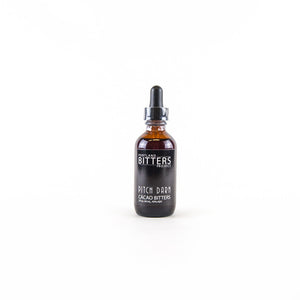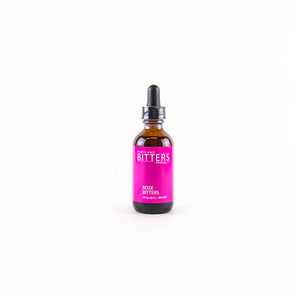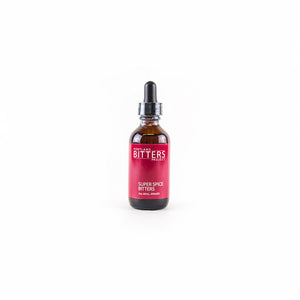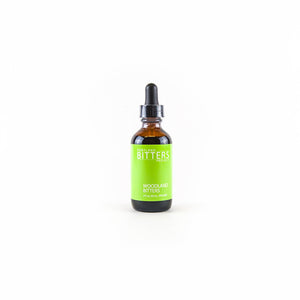 Product image 1

Product image 2

Product image 3

Product image 4

Product image 5

Product image 6

Product image 7

Product image 8

Portland Bitters Project turns the best organic botanicals into concentrated flavors that play on all levels of your palate. Whereas other craft bitters might make six or eight cocktails per ounce, theirs will give you 20-40. You won't find a shred of artificial coloring, and nothing to thicken them.

2oz bottle
Details
The Process
Steep whole botanicals in organic, non-GMO cane spirits. Let them mingle for up to ten days. Take out all those bits, and you're left with gorgeous tinctures. Next, add some raw sugar and Portland water to make all those beautiful flavors bloom.
PBP puts them in amber glass bottles with dropper tops, because quality shouldn't be shaken around in unknown quantities. It should be applied with care.
Varieties
Aromatic
PBP's flagship. Delight your Manhattan, Champagne Cocktail or Old Fashioned with these balanced, herbaceous bitters. If you think the story ends (sadly) with Angostura, these will change your mind. They use organic botanicals, organic cane spirits and raw sugar so nothing gets in the way of pure flavor. 
Woodland
Woodland Bitters - what on earth? That's right, wild-crafted Douglas Fir, enhanced with peppermint and bitter orange. Like sipping a hike, but more possible. PBP loves pairing them with gin, bourbon, soda water and even aquavit. Pro tip: upgrade your G&T with a few drops!
Orange
Tired of orange bitters that taste like candy? PBP uses three kinds of oranges and gives them a boost with classic gentian root and coriander. These belong in your Old Fashioned, with your rum cocktails and in that cold glass of seltzer.
Rose
Gorgeous layers of Damask rose, warm spice and subtle citrus make any beverage a newly floral experience. Beautiful with gin, cachaça, sparkling wine and vodka, just to get started! Livens up chocolate tones and plays well with fruit. A romantic mood is inevitable!
Super Spice
In this bottle you'll find concentrated peace, goodness and joy. Or, at the very least, warm spices and love. With the grounding presence of fenugreek, Super Spice is here to embrace your hot toddy, warm cider, old fashioned or heart's desire. Organic spirits and botanicals paired with raw sugar to deliver you pure flavor. 
Lavender
Fabulous Lavender Bitters, made with sensational supporting botanicals like coriander and vanilla! Delicious in sparkling water, Corpse Revivers No. 2, sparkling wine and more!
Pitch Dark Cacao
Deep, dark, delicious cacao, brought to you in this bracing and complex blend. PBP uses Portland's own Pitch Dark Bolivia cacao and pure organic vanilla bean to create a bitters at home with dark spirits, vodka, revving up your favorite hot chocolate or even coffee. 
shipping + return policy
What is your refund/exchange policy?
We are happy to refund you for the full amount of the purchase within 15 days of the original purchase date. The item must be in its original salable condition, and in original packaging. After 15 days has passed, items can be exchanged within 30 days of purchase.
A printed or emailed receipt is required for all returns and exchanges. If the purchase was made online, customers are responsible for any additional shipping costs for returns and exchanges. If there is an issue with the product, let us know ASAP.
All custom sales or orders are final sale. No returns, refunds or exchanges.
What is your refund/exchange policy on Last Call products? 
All last call products are final sale and cannot be returned. You will not be able to exchange, get store credit or a refund for these products. 
Can I return food items?
Yes, as long as they are still sealed, re-sellable and within the return period with a receipt of purchase.
How soon are orders processed and shipped?
We typically fulfill orders within 1-4 business days. We ship USPS Priority for all domestic orders.
Do you ship internationally?
Yes! We ship via USPS Priority International, and you can receive a quote at checkout. Please note, there are a few items (such as knives) that we cannot ship internationally.
Meet the Maker
Portland, Oregon
Portland Bitters Project (PBP) was born in Autumn, 2013.  Since then, we've been hard at work creating cocktail bitters and herbal tinctures.
Bitters.  What does that really mean?  It all starts with organic, therapeutic-grade botanicals (roots, leaves, fruit, sometimes seeds!).  These are immersed in over-proof...
VIEW MORE