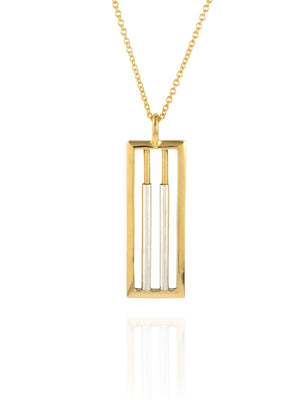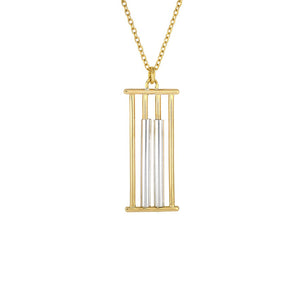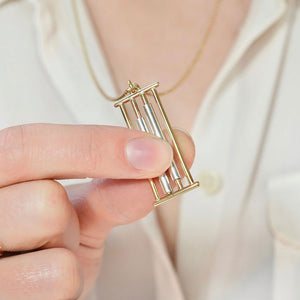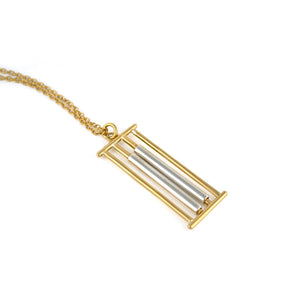 Product image 1
Product image 2

Product image 3

Product image 4

Kinetic Rolling Fidget Necklace
Fine jewelry doesn't need to look serious, and fidget spinners don't need to look ridiculous. This kinetic necklace is handmade with 2 dainty sterling silver tubes, ready to roll or move between your fingers. The chain is 14k gold fill, and each pendant is handcrafted in bronze and sterling silver.
With a clean-lined, minimal design, no one would guess that this necklace is the perfect solution for restless hands, and helping with concentration, anxiety, or just boredom.
Details
Sterling silver tubes & 14K gold chain
Chain measures 24" long.
Emma created this ring as a part of her "fidget" collection, a series aimed at exploring the ways in which jewelry can help to facilitate nervous habits. In her research, she focused on supporting these habits as positive parts of the ways people think, and wanted to create beautiful, intentional jewelry to fight the stigmas often associated with nervous habits.
Updated version is a full square. Please email info@madehereonline.com to confirm your style.
Some product photos provided by Emma Brooke Jewelry.
shipping + return policy
What is your refund/exchange policy?
We are happy to refund you for the full amount of the purchase within 15 days of the original purchase date. The item must be in its original salable condition, and in original packaging. After 15 days has passed, items can be exchanged within 30 days of purchase.
A printed or emailed receipt is required for all returns and exchanges. If the purchase was made online, customers are responsible for any additional shipping costs for returns and exchanges. If there is an issue with the product, let us know ASAP.
All custom sales or orders are final sale. No returns, refunds or exchanges.
What is your refund/exchange policy on Last Call products? 
All last call products are final sale and cannot be returned. You will not be able to exchange, get store credit or a refund for these products. 
Can I return food items?
Yes, as long as they are still sealed, re-sellable and within the return period with a receipt of purchase.
How soon are orders processed and shipped?
We typically fulfill orders within 1-4 business days. We ship USPS Priority for all domestic orders.
Do you ship internationally?
Yes! We ship via USPS Priority International, and you can receive a quote at checkout. Please note, there are a few items (such as knives) that we cannot ship internationally.
Meet the Maker
Portland, Oregon
Handmade in NE Portland, OR, Emma Brooke Jewelry is a handcrafted line of fine jewelry, custom bridal design, and playful everyday wear. With meticulous attention to craftsmanship and detail, and durable, high quality materials, Emma Brooke Jewelry is created to last.
"I...
VIEW MORE