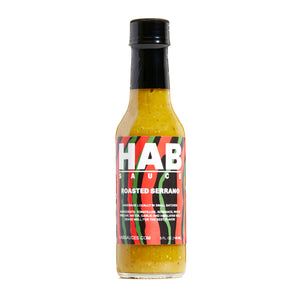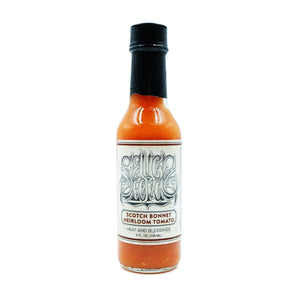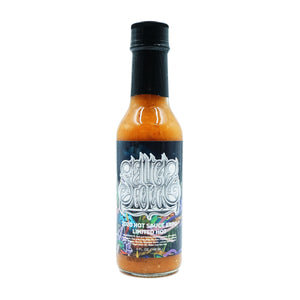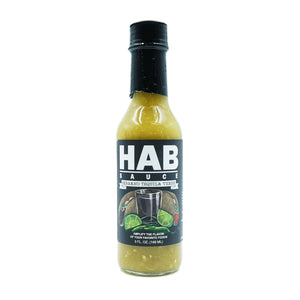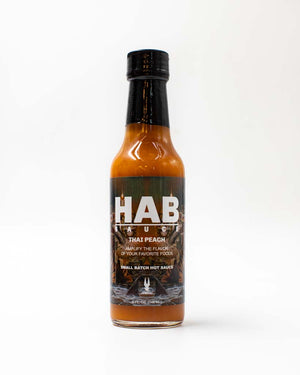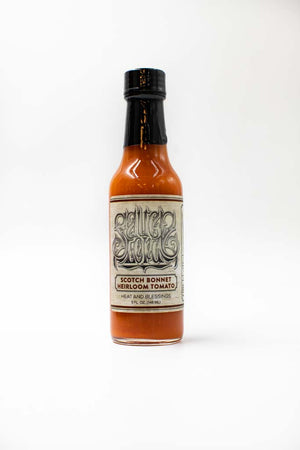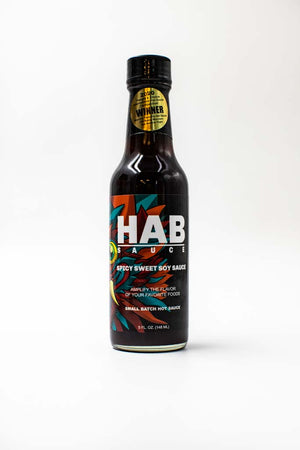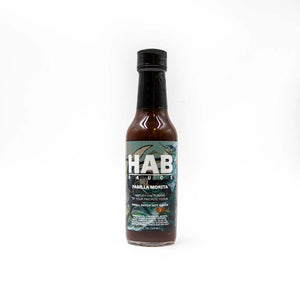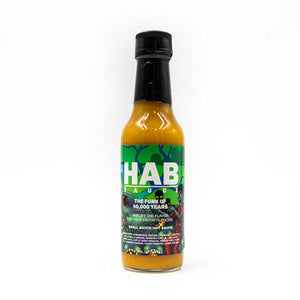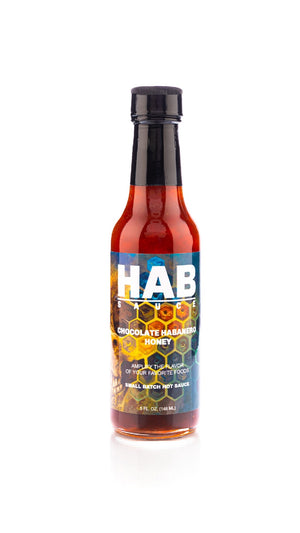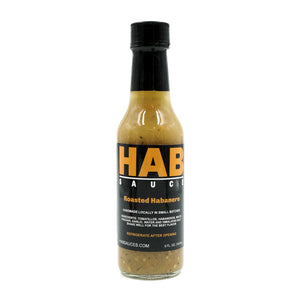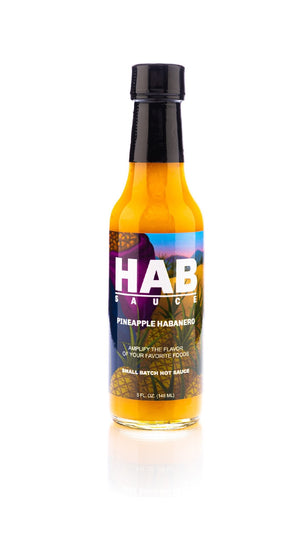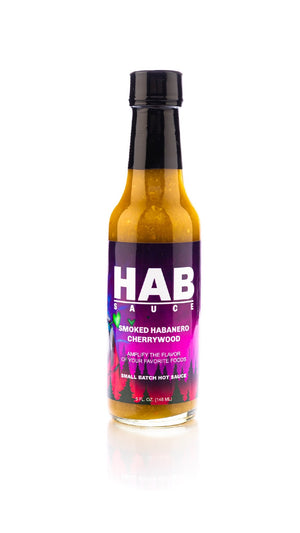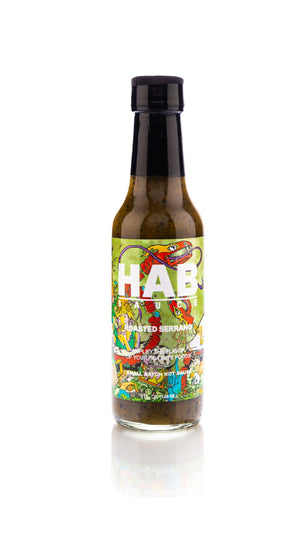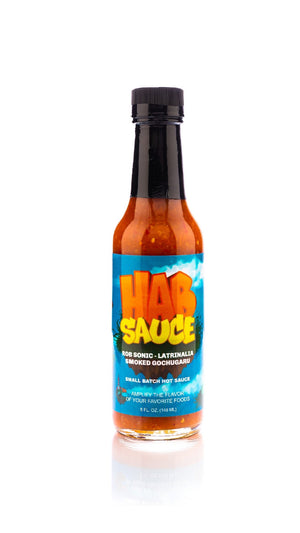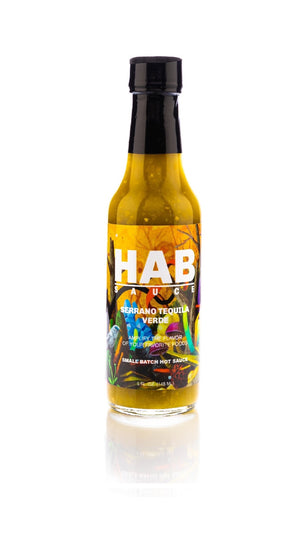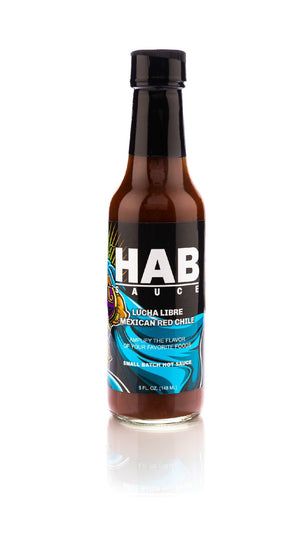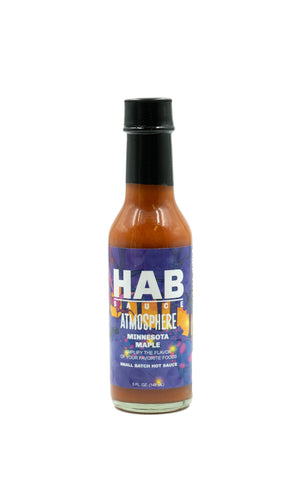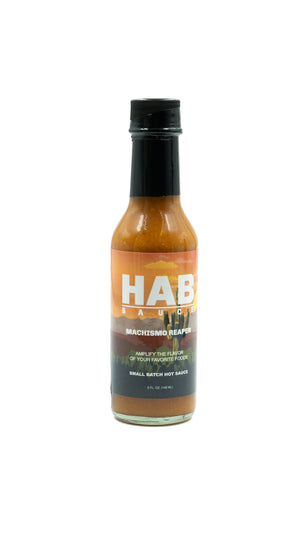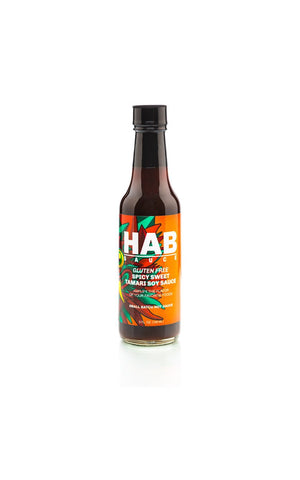 Product image 1
Product image 2

Product image 3

Product image 4

Product image 5

Product image 6
Product image 7

Product image 8

Product image 9

Product image 10
Product image 11

Product image 12

Product image 13

Product image 14

Product image 15

Product image 16

Product image 17

Product image 18

Product image 19

Product image 20

Product image 21

Product image 22
Product image 23

Product image 24
Product image 25
Handmade in small batches with carefully selected fruits and an array of hot peppers, HAB Sauces strike the perfect balance of sweet and heat.

5oz bottle
Varieties
Roasted Habanero
Roasted habaneros, tomatillos and garlic combined white vinegar, and Himalayan salt. HAB's signature blend. Medium/Hot on the heat scale.
Smoked Cherrywood
Tomatillos, habaneros and garlic gently smoked with cherrywood with white vinegar and Himalayan salt combined in just the right harmony. Medium on the heat scale.
Thai Peach
Handmade in small batches with roasted Thai chilis, peaches, garlic, and white vinegar and hint of pink Himalayan salt. Medium/Hot on the heat scale.
Pineapple Habanero
This bottle's art was designed by Angel van Overeem and isn't just good looking on the outside, but is vibrant and brilliant on the inside as well. Pineapple Habanero delivers a delicious and sweet but not too sweet taste. Perfect on carnitas, chicken, or in martinis. Medium/Hot on the heat scale.
Lucha Libre
This sauce will body slam your taste buds. It's like a steak sauce that broke out the steak house to prove it had more to offer to this world then just steak. That being said, it's great on steak… fish, veggies and chicken wings. It has an entire different taste than HAB's other sauces, with ingredients like carrots, onions, cayenne and habanero chilies as well as an apple cider vinegar base. Try it! Mild on the heat scale.

Roasted Serrano
A blend of roasted serranos, garlic, and tomatillos make this a very well balanced, and milder hot sauce. If you like hot, you'll still really appreciate the flavor of this sauce and its kick. Mild on the heat scale.

2020 Hot Sauce Expo (Limited Edition)
Every year HAB puts out a hotter than their average heat sauce. For this year's label they teamed up with artist Jeremy Nichols who created a vivid dreamscape.  Don't let this sauce fool you... it's hot, but it has such a desirable flavor. You'll keep reaching for it even after burning your face. It's a combination of chocolate habaneros, yellow, red and chocolate ghosts and chocolate bhutlah peppers and they play well together. After the initial burn you'll be enveloped with flavor from roasted garlic and noticeable hints of citrus from the fresh lemon juice and a soothing sweetness from the tomatillos. Limited run of 500 bottles.
Scotch Bonnet Heirloom Tomato (Limited Edition)
A subtle southern inspired sauce and one of HAB's favorite tasting peppers, Scotch Bonnet. Blended with some of the best heirloom tomatoes from the Pacific Northwest and paired with rice vinegar and ginger. Limited run of 250 bottles. Medium heat, savory not sweet.
Serrano Tequila Verde
This label was designed by Angel van Overeem and it will make your mouth water at first glance. This flavor has a very distinct taste for a verde sauce. It's more like the love child of the world's best taco and an ice cold shot of tequila. It's a lot spicier than HAB's signature Roasted Serrano blend. They added a splash of orange juice to liven things up as well.
Spicy Sweet Soy Sauce
5 ounces of wow. Straight up put it on anything or cook and marinade with it. Its a very flavorful and a hotter sweet twist on soy sauce.
1st Place People's Choice Worlds Favorite Hot Sauce at Old Boney Hot Summer Nights International Hot Sauce and Culinary Experience 2020.
Ingredients: Soy Sauce (water, wheat, soybeans, salt, sodium benzoate) brown sugar, habaneros, molasses, garlic, ginger and lime juice.
*Gluten free option available.

Limited Edition "Rob Sonic Latrinalia Smoked Gochugaru" HAB Sauce
Ingredients: Tomatillos, Habaneros, Garlic, Vinegar, Gochugaru Peppers and Pink Himalayan Salt.

Chocolate Habanero Honey
Award Winning 1st Place People's Choice Old Boney Mountain International Hot Sauce Competition 2021. Ingredients: Locally sourced Oregon orange blossom honey, chocolate habaneros, lemon juice, apple cider vinegar and sea salt.

Minnesota Maple (ATMOSPHERE collab)
Ingredients: Maple syrup, white wine vinegar, red bell peppers, dates, habanero peppers, leeks, orange juice, lime juice, olive oil, fruit pectin and Jacobson's smoked sea salt.
Murder Mango Bulgarian Pepper
Bulgarian carrot peppers and habaneros in this super mango forward creation. Ingredients: Mango Bulgarian Peppers, White Wine Vinegar Apple Cider Vinegar, Habaneros, Water, Lime Juice, Agave, Mango Puree, Apple Juice from Concentrate, Orange Juice Concentrate, Lemon Juice from Concentrate , Banana Puree, Natural Flavors, Beta Carotene (Vitamin A) and Sea Salt

shipping + return policy
What is your refund/exchange policy?
We are happy to refund you for the full amount of the purchase within 15 days of the original purchase date. The item must be in its original salable condition, and in original packaging. After 15 days has passed, items can be exchanged within 30 days of purchase.
A printed or emailed receipt is required for all returns and exchanges. If the purchase was made online, customers are responsible for any additional shipping costs for returns and exchanges. If there is an issue with the product, let us know ASAP.
All custom sales or orders are final sale. No returns, refunds or exchanges.
What is your refund/exchange policy on Last Call products? 
All last call products are final sale and cannot be returned. You will not be able to exchange, get store credit or a refund for these products. 
Can I return food items?
Yes, as long as they are still sealed, re-sellable and within the return period with a receipt of purchase.
How soon are orders processed and shipped?
We typically fulfill orders within 1-4 business days. We ship USPS Priority for all domestic orders.
Do you ship internationally?
Yes! We ship via USPS Priority International, and you can receive a quote at checkout. Please note, there are a few items (such as knives) that we cannot ship internationally.
Meet the Maker
Portland, Oregon
We make sauce that will compliment or make your food taste better. We make hot sauce that pairs well with dishes that have been passed down for generations. Our flavors will make your reminisce of those really special times in your life. We feel it is...
VIEW MORE