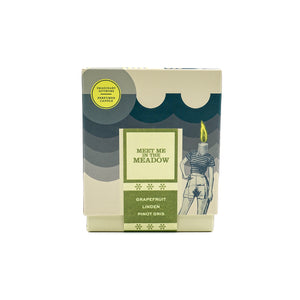 Product image 1
Product image 2
Product image 3
Product image 4
Product image 5
Product image 6
Imaginary Authors candles are a large 11oz soy blend with cotton wicks and a 55 hour burn time.
Varieties
Meet Me in the Meadow
One strike of a match can turn your bedroom into a verdant wild and unlock your most indecorous dreams.

Notes of Grapefruit, Linden & Pinot Gris
The Abandoned Mansion
Lose yourself in this candle's dim, woody vapors. Then kick your boots off and make yourself at home. This is where you live now.
Notes of Cedar, Quince & Paperbacks
Bouquet of Miracles
We can all use a Bouquet of Miracles now and then. Set fire to the end of a long day and feel the weight of the world lifted off your shoulders like a ribbon of smoke dissipating into thin air.

Notes of Rose, Red Current & Springtime in Portland

Cape Heartache
For any new adventure including, but not limited to, beach bonfires, first dates, party crashing, or simply barhopping alone on a rainy night. Like a scarf, wear the Cape Heartache scent in the fall and winter and observe how people gravitate to your warmth.

Notes of Douglas Fir, Pine Resin, Western Hemlock, Vanilla Leaf, Strawberry, Old Growth, Mountain Fog.

Some product photos provided by Imaginary Authors.
shipping + return policy
What is your refund/exchange policy?
We are happy to refund you for the full amount of the purchase within 15 days of the original purchase date. The item must be in its original salable condition, and in original packaging. After 15 days has passed, items can be exchanged within 30 days of purchase.
A printed or emailed receipt is required for all returns and exchanges. If the purchase was made online, customers are responsible for any additional shipping costs for returns and exchanges. If there is an issue with the product, let us know ASAP.
All custom sales or orders are final sale. No returns, refunds or exchanges.
What is your refund/exchange policy on Last Call products? 
All last call products are final sale and cannot be returned. You will not be able to exchange, get store credit or a refund for these products. 
Can I return food items?
Yes, as long as they are still sealed, re-sellable and within the return period with a receipt of purchase.
How soon are orders processed and shipped?
We typically fulfill orders within 1-4 business days. We ship USPS Priority for all domestic orders.
Do you ship internationally?
Yes! We ship via USPS Priority International, and you can receive a quote at checkout. Please note, there are a few items (such as knives) that we cannot ship internationally.
Meet the Maker
Portland, Oregon
Imaginary Authors is born from the concept of scent as art and art as provocation. Like a good book, these scents are meant to inspire you. In these bottles are layered narratives that are sure to generate stirring conversation, fragrances that might be capable of changing...
VIEW MORE