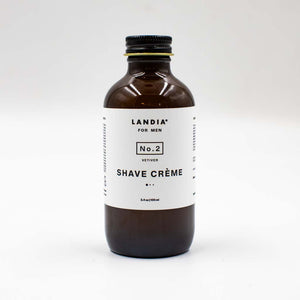 This shave cream provides amazing glide and hydration plus a smooth and rash free shave - without razor clog. Offered in a convenient pump dispenser. How? With organic olive oil castile, shea butter, castor & sunflower seed oils.
NO. 2 Scent: Coffee, Cyprus, Clove + Vanilla
4oz bottle
Key Ingredients
Organic Aloe Vera Leaf Juice
Rich in numerous antioxidants like beta carotene, vitamins A & C to promote firmness and reverse dehydration. Aloe also contains Auxin & Gibberellins; two hormones that promote wound healing and reduce skin inflammation.
Organic Shea Butter
High in oleic, stearic & linoleic fatty acids, which aid in the skin's natural collagen production and protect & nourish it to prevent drying. If used over time, shea butter can improve fine lines and actually strengthen and enhance the elasticity of the skin.
Organic Geranium Hydrosol
Hydrosols are co-produced alongside essential oils; they are the condensate that is captured and have the same components and benefits as EO's, just not as concentrated. Geranium hydrosol is antibacterial and anti-inflammatory and can calm, heal and refresh the skin.
Organic Castor Oil
Provides amazing slip and glide as well as antibacterial and anti-inflammatory qualities because of its high levels of ricinoleic acid
Organic Sunflower Seed Oil
shipping + return policy
What is your refund/exchange policy?
We are happy to refund you for the full amount of the purchase within 15 days of the original purchase date. The item must be in its original salable condition, and in original packaging. After 15 days has passed, items can be exchanged within 30 days of purchase.
A printed or emailed receipt is required for all returns and exchanges. If the purchase was made online, customers are responsible for any additional shipping costs for returns and exchanges. If there is an issue with the product, let us know ASAP.
All custom sales or orders are final sale. No returns, refunds or exchanges.
What is your refund/exchange policy on Last Call products? 
All last call products are final sale and cannot be returned. You will not be able to exchange, get store credit or a refund for these products. 
Can I return food items?
Yes, as long as they are still sealed, re-sellable and within the return period with a receipt of purchase.
How soon are orders processed and shipped?
We typically fulfill orders within 1-4 business days. We ship USPS Priority for all domestic orders.
Do you ship internationally?
Yes! We ship via USPS Priority International, and you can receive a quote at checkout. Please note, there are a few items (such as knives) that we cannot ship internationally.
Meet the Maker
Portland, Oregon
Portland, Oregon
Our skin is our largest organ and what we put on it is absorbed and transferred into our bodies. Because the U.S. cosmetic industry is largely unregulated, many conventional personal care products use ingredients like Peg-75 (a skin irritant & solvent) and Ethylhexylglycerin (a skin irritant and...
VIEW MORE