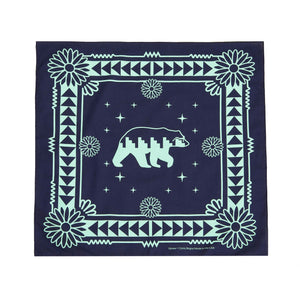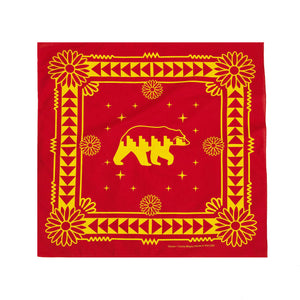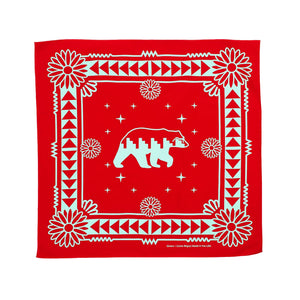 Product image 1

Product image 2

Product image 3

Product image 4

Naasgó Forward Movement Bandana
Statement from Ginew:
By happenstance we met Corey Begay - Diné (Navajo) artist - in Portland. Immediately, we were drawn to their unique skill set in articulating a contemporary Indigenous existence which is simultaneous informed by traditional teachings. It is this duality where many of us exist - living out our lives in a contemporary context, while being ever-informed by our traditional values and believes. Ultimately - we create, we exist, we move forward. This is our path.
Returning from the Warm Springs community in Central, ORE - we crested a hill on the road to be encountered by a large black bear walking Westward. No one was startled - looking at each other in this brief encounter and then moving forward as our paths diverged. This year we have been thinking about this encounter - about messengers, teachers, relatives, ancestors, and how we will one day be ancestors. How will we be remembered? What will we leave behind? In what ways will we do so?
Corey Begay says, "There isn't a direct translation of the word Naasgó in English. In Navajo, the primary meaning is "'the action of moving forward' and it can also be used to describe persevering, taking steps, and sentiments like these. Below the Bear is the Land and above the bear is the Cloud, which can be seen in the day, and the Star, which can be seen in the night. Though the bear is usually a night-walker animal, the presence of the cloud here means that this bear is a lighter day-traveler. The glasses signify modern culture, any living thing's character/personality. I like to use the glasses in my artwork as a somewhat of signature for myself because I wear glasses and that glasses allows one to look through a lens or frame for a better vision".
Details
Naasgó (moving forward) Ginew + Corey Begay Collaboration
100% cotton bandana (USA)
Water-based discharge printing (Portland, ORE)
Collaboration with Diné artist Corey Begay
Portion of each sale goes directly to artist

Measures 22" x 22"
shipping + return policy
What is your refund/exchange policy?
We are happy to refund you for the full amount of the purchase within 15 days of the original purchase date. The item must be in its original salable condition, and in original packaging. After 15 days has passed, items can be exchanged within 30 days of purchase.
A printed or emailed receipt is required for all returns and exchanges. If the purchase was made online, customers are responsible for any additional shipping costs for returns and exchanges. If there is an issue with the product, let us know ASAP.
All custom sales or orders are final sale. No returns, refunds or exchanges.
What is your refund/exchange policy on Last Call products? 
All last call products are final sale and cannot be returned. You will not be able to exchange, get store credit or a refund for these products. 
Can I return food items?
Yes, as long as they are still sealed, re-sellable and within the return period with a receipt of purchase.
How soon are orders processed and shipped?
We typically fulfill orders within 1-4 business days. We ship USPS Priority for all domestic orders.
Do you ship internationally?
Yes! We ship via USPS Priority International, and you can receive a quote at checkout. Please note, there are a few items (such as knives) that we cannot ship internationally.
Meet the Maker
Portland, Oregon
Ginew (Gih-noo) is the only Native American-owned, premium denim collection in the world. We make hand-built heirloom goods in the USA using old-time methods with a focus on American-made materials. Each item incorporates elements of our Native American (Ojibwe, Oneida, Mohican) and craftsmen heritage, and...
VIEW MORE