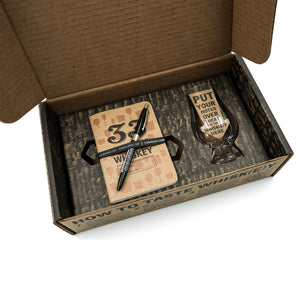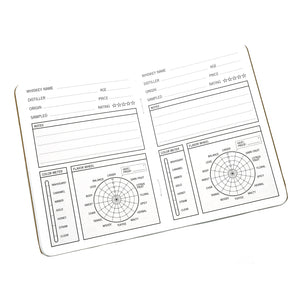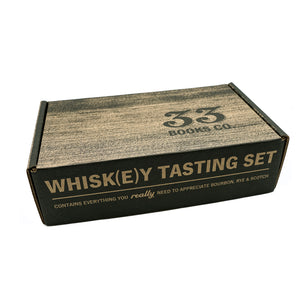 Product image 1

Product image 2

Product image 3

When Dave from 33 Books developed his Scotch journal and Bourbon tasting journal, he consumed a fair bit of "research" whisk(e)y in the process. Working on the Scotch poster took him further down the rabbit hole. In his right hand was always one glass - the Glencairn Whisky glass, and he has decided to offer it as part of this tasting set.

Details
The glass in this kit was designed by a Glaswegian glass family business expressly for tasting Scotch whisky. Its design has received accolades from big names in whisky, but Dave can tell you from his own experience that it works exceptionally well for whiskEy, too. Bourbon, rye, sour mash ... yes, even Canadian Whisky tastes pretty good in here.
The shape of the glass is pleasant to look at, but he finds it holds just the right amount for a good tasting, and feels great in your hand. He's no physicist, but to him, the tapering top seems to collect and concentrate aroma, similar to the way a wine glass does. The glass is made in Germany at a renowned lead-free crystal factory.
A Set of Whisk(e)y Tasting Journals
The kit you receive will include two of Dave's popular tasting journals: 33 Drams of Scotch and 33 Glasses of Whiskey. The journals each have space to record 33 different whiskies, giving you space for a total of 66 whisk(e)y tasting experiences.
A Delightful Pen
The journals are accessorized with a traditional click-style, American-made ballpoint pen.
Presentation-Ready Packaging
Dave designed the box with whisk(e)y barrel-inspired imagery on both the exterior and interior of the box so it makes a great impression. When you first open the box, some tips on how to best taste whisk(e)y are also included, making this a great gift for whisk(e)y newbies, too.
shipping + return policy
What is your refund/exchange policy?
We are happy to refund you for the full amount of the purchase within 15 days of the original purchase date. The item must be in its original salable condition, and in original packaging. After 15 days has passed, items can be exchanged within 30 days of purchase.
A printed or emailed receipt is required for all returns and exchanges. If the purchase was made online, customers are responsible for any additional shipping costs for returns and exchanges. If there is an issue with the product, let us know ASAP.
All custom sales or orders are final sale. No returns, refunds or exchanges.
What is your refund/exchange policy on Last Call products? 
All last call products are final sale and cannot be returned. You will not be able to exchange, get store credit or a refund for these products. 
Can I return food items?
Yes, as long as they are still sealed, re-sellable and within the return period with a receipt of purchase.
How soon are orders processed and shipped?
We typically fulfill orders within 1-4 business days. We ship USPS Priority for all domestic orders.
Do you ship internationally?
Yes! We ship via USPS Priority International, and you can receive a quote at checkout. Please note, there are a few items (such as knives) that we cannot ship internationally.
Meet the Maker
Portland, Oregon
Dave Selden is a Portland-based graphic designer and creator of the "33" series of pocket-sized tasting notebooks sold around the world. Dave is an avid runner always training for his next marathon, a woodworker, homebrewer and fermentation geek in his spare time. He has a lovely wife, two...
VIEW MORE