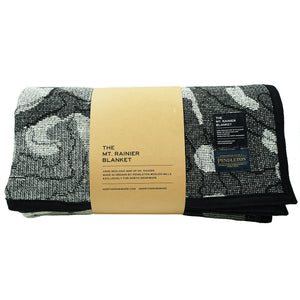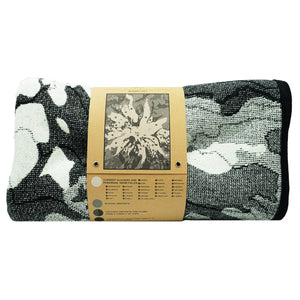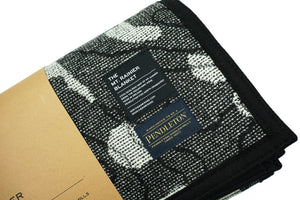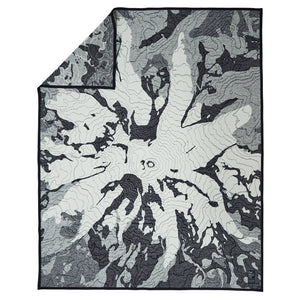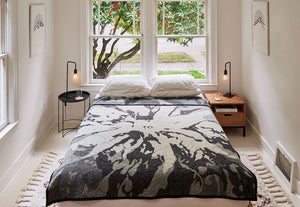 Product image 1

Product image 2

Product image 3
Product image 4

Product image 5

The Mount Rainier Pendleton Blanket
This custom wool blanket inspired by the USGS Geologic Map of Mt. Rainier is made exclusively for North by Pendleton Woolen Mills in Oregon.
The variety of grayscale tones woven into the blanket define the geologic features of the mountain. The lightest shades represent the current glaciers and perennial snow fields, while the darker tones show the glacial deposits and various types of volcanic rock that makes up Washington's highest peak. The detailed topographic lines of Mt. Rainier are woven into the blanket every 350ft of elevation.
North designed this blanket to work with Pendleton's jacquard weaving process. The wool is sourced from the highest quality sheep and is processed, dyed, and finished from end to end by Pendleton in the Pacific Northwest.
Using a process called pick and pick, the jacquard weaving loom blends two colors of yarn to achieve the range of colors in the blanket. This process produces the inverse of the design on the back of the blanket.
Individually wrapped in a card sleeve with a key to the colors and geologic features of the mountain is printed on the back of the card.
Blanket Details:
Made in Oregon by Pendleton Woolen Mills exclusively for North Drinkware
64 X 80 inches
Key included
Custom North + Pendleton woven labels
Pure virgin wool/cotton fabric woven in Oregon, USA
Unnapped, felt bound
Dry clean only
Lifestyle photo by North Drinkware.
shipping + return policy
What is your refund/exchange policy?
We are happy to refund you for the full amount of the purchase within 15 days of the original purchase date. The item must be in its original salable condition, and in original packaging. After 15 days has passed, items can be exchanged within 30 days of purchase.
A printed or emailed receipt is required for all returns and exchanges. If the purchase was made online, customers are responsible for any additional shipping costs for returns and exchanges. If there is an issue with the product, let us know ASAP.
All custom sales or orders are final sale. No returns, refunds or exchanges.
What is your refund/exchange policy on Last Call products? 
All last call products are final sale and cannot be returned. You will not be able to exchange, get store credit or a refund for these products. 
Can I return food items?
Yes, as long as they are still sealed, re-sellable and within the return period with a receipt of purchase.
How soon are orders processed and shipped?
We typically fulfill orders within 1-4 business days. We ship USPS Priority for all domestic orders.
Do you ship internationally?
Yes! We ship via USPS Priority International, and you can receive a quote at checkout. Please note, there are a few items (such as knives) that we cannot ship internationally.
Meet the Maker
Portland, Oregon
Our brand started as an idea. A way to connect the things we loved to a product that we wanted to make. This is the story of how it all started. From the first glimmer of our idea through our trials and tribulations and...
VIEW MORE