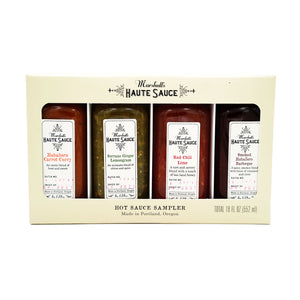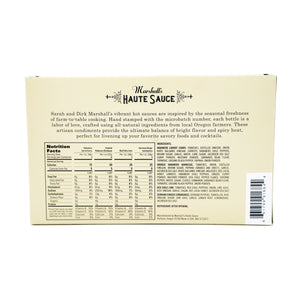 Product image 1

Product image 2

Sample pack includes a travel sized 4 oz bottle of Habanero Carrot Curry, Serrano Ginger Lemongrass, Red Chili Lime, and Smoked Habanero Barbeque - the perfect gift for your favorite haute sauce lover!
Serrano Ginger Lemongrass
This sauce uses citrus to balance the heat of the serrano and bridge the aromatic qualities of ginger and lemongrass. The chili has a delayed fuse due to the added sweetness.
Habanero Carrot Curry
This sauce is an exotic blend of hot and sweet.  Habaneros are known for their intense heat but this sauce focuses on flavor. It brings strong notes of citrus and floral elements.
Red Chili Lime
This sauce has a bold color and is smooth in texture.  The heat comes up front followed by sweetness. Modeled after bento sweet chili sauce, removing corn syrup and including local honey instead.

Smoked Habanero Barbeque
This sauce won first place in the national sauce competition, The Scovie Awards. This is not your traditional hot sauce.  This sauce was created by deconstructing traditional big name sauces and eliminating common allergens (gluten, anchovies, worcestershire, corn starch) and replacing them with spices and vegetables. Marshall's has created a product that is easily accessible to all BBQ fans. It contains a unique spice blend with the essence of cinnamon and clove. It has a smokey, sweet, and savory flavor with a mild heat.
shipping + return policy
What is your refund/exchange policy?
We are happy to refund you for the full amount of the purchase within 15 days of the original purchase date. The item must be in its original salable condition, and in original packaging. After 15 days has passed, items can be exchanged within 30 days of purchase.
A printed or emailed receipt is required for all returns and exchanges. If the purchase was made online, customers are responsible for any additional shipping costs for returns and exchanges. If there is an issue with the product, let us know ASAP.
All custom sales or orders are final sale. No returns, refunds or exchanges.
What is your refund/exchange policy on Last Call products? 
All last call products are final sale and cannot be returned. You will not be able to exchange, get store credit or a refund for these products. 
Can I return food items?
Yes, as long as they are still sealed, re-sellable and within the return period with a receipt of purchase.
How soon are orders processed and shipped?
We typically fulfill orders within 1-4 business days. We ship USPS Priority for all domestic orders.
Do you ship internationally?
Yes! We ship via USPS Priority International, and you can receive a quote at checkout. Please note, there are a few items (such as knives) that we cannot ship internationally.
Meet the Maker
Portland, Oregon
Marshall's Haute Sauce brings delicious fresh and local small batch products to those that will love them. We are designed for worry free farm-to-table utilization. We buy local whenever possible and get our produce at the farmers markets we work at. The farmers market is our...
VIEW MORE