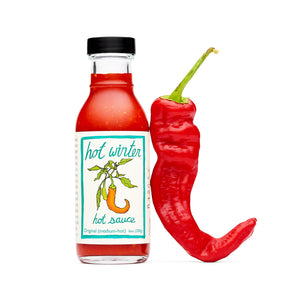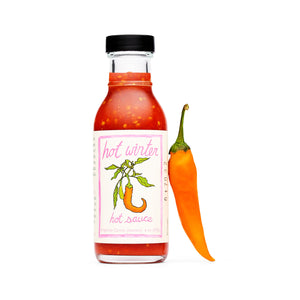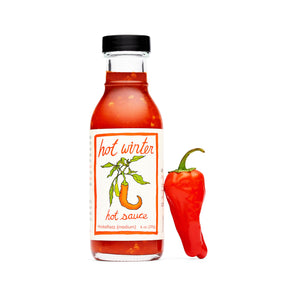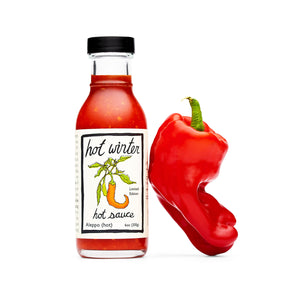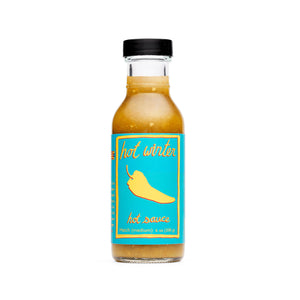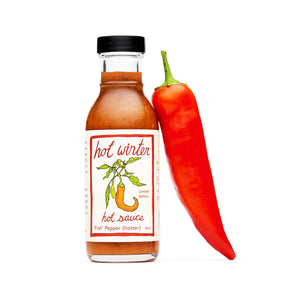 Product image 1

Product image 2
Product image 3
Product image 4

Product image 5
Product image 6

Product image 7

Product image 8

Product image 9

Fermented hot sauce made in Portland, Oregon. Hot Winter uses all organic ingredients and purchases chiles & garlic direct from farmers. Different heirloom peppers create unique flavors in a wide variety of heat levels.
6oz bottle
Varieties
Original
HW's very own Hot Winter Pepper: the off-type Jimmy Nardello that inspired Hot Winter Hot Sauce. This sauce is less sweet and more earthy, with a slowly building heat that is robust, but not over powering.
Santa Fe
A hotter blend used with Santa Fe Grande as a base, then adds Bulgarian Carrot and a little bit of Golden Cayanne for a heat that is substantial, but still full of flavor.
Orleans
Just a little bit hotter than the Santa Fe Grande, this golden hot sauce is extra thick, and tastes like black pepper awash in sunshine; it is the perfect compliment to a fish taco.
Bulgarian Carrot
For all those who have asked for a hotter Hot Winter: this sauce blends Bulgarian Carrot with LOTS of Hinkelhatz, for a bold heat with rich, dark fruit flavor with a full body.
Poblano
A "warm" sauce with lots of smokey, green chile flavor, a pleasant tanginess, and just a touch of heat. 
Hinkelhatz
A sweet-hot blend of Hungarian Hot Wax, Hinkelhatz and Shaun's own Hot Winter Pepper.  Perfectly balanced, this sauce is reminiscent of Sriachia, but with much higher quality ingredients and greater complexity. 
Aleppo
The Aleppo has a robust, long lasting heat, as well as a unique umami flavor.  It has been favored by chefs for centuries, and is named after the city that used to be the most populous in Syria. 
Hatch
In a new partnership with Los Roast, Hot Winter is pleased to share this fermented Hatch chile sauce.  These are certified New Mexico chiles prepared in the Hot Winter style.  They use a combination of the Arizona 1904 and Lumbre varieties, to create a sauce with an accessible heat and that distinctive SW flavor.
Limited Edition: "Fish" Pepper
This year's limited edition hot sauce features the "Fish" pepper, so named for its popularity in late 19th century oyster and crab houses around the Chesapeake Bay.  African-American chefs prized the chile for its variegated color, which allowed them to create spicy fish sauces without "muddying" the color of the fish with red peppers. The pepper is recognized by the Slow Food Foundation for Biodiversity.
shipping + return policy
What is your refund/exchange policy?
We are happy to refund you for the full amount of the purchase within 15 days of the original purchase date. The item must be in its original salable condition, and in original packaging. After 15 days has passed, items can be exchanged within 30 days of purchase.
A printed or emailed receipt is required for all returns and exchanges. If the purchase was made online, customers are responsible for any additional shipping costs for returns and exchanges. If there is an issue with the product, let us know ASAP.
All custom sales or orders are final sale. No returns, refunds or exchanges.
What is your refund/exchange policy on Last Call products? 
All last call products are final sale and cannot be returned. You will not be able to exchange, get store credit or a refund for these products. 
Can I return food items?
Yes, as long as they are still sealed, re-sellable and within the return period with a receipt of purchase.
How soon are orders processed and shipped?
We typically fulfill orders within 1-4 business days. We ship USPS Priority for all domestic orders.
Do you ship internationally?
Yes! We ship via USPS Priority International, and you can receive a quote at checkout. Please note, there are a few items (such as knives) that we cannot ship internationally.
Meet the Maker
Portland, Oregon
FERMENTED hot sauce made in Portland, Oregon
We use all ORGANIC ingredients, and purchase chiles & garlic direct from farmers
HEIRLOOM peppers create unique flavors in a wide variety of heat levels
VIEW MORE