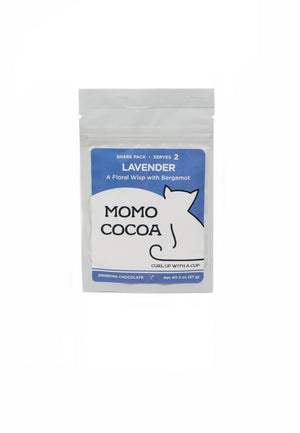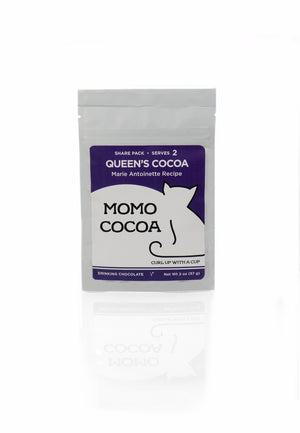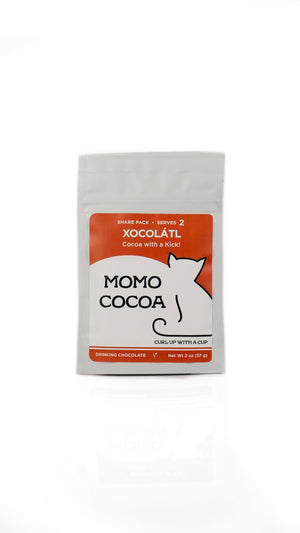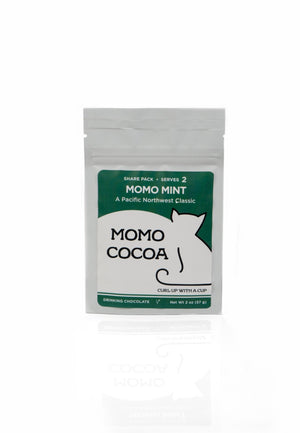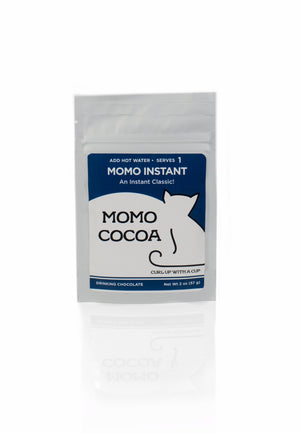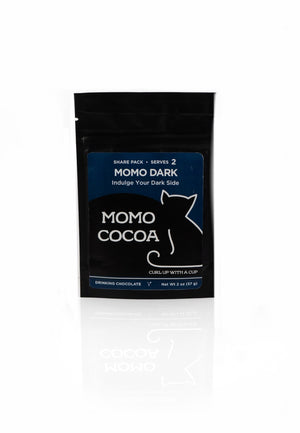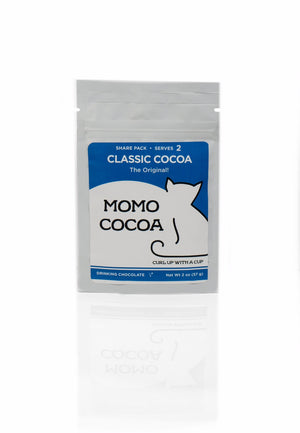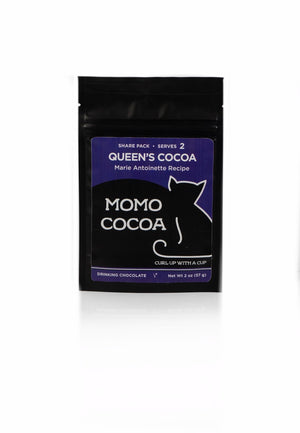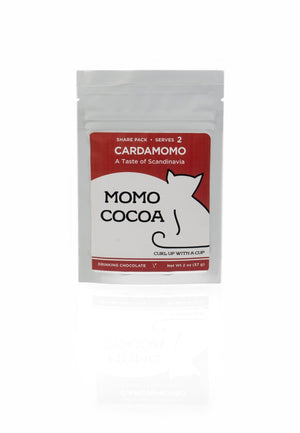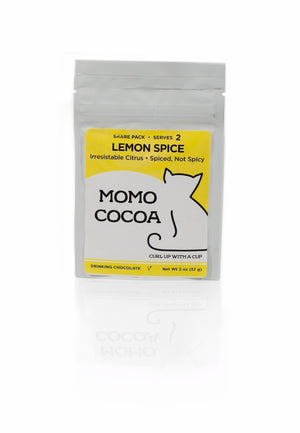 Product image 1
Product image 2

Product image 3
Product image 4

Product image 5

Product image 6

Product image 7

Product image 8

Product image 9
Product image 10

Each Momo Cocoa includes organic sugar, premium cocoa and the finest organic vanilla. Not only delicious for drinking but added to baking or desserts!
This 2oz package includes two servings of cocoa.
Varieties
Basic
The original classic! Just three ingredients, because that's all you need!  Sugar, premium cocoa powder and the finest organic vanilla combine to make the perfect cup.
Momo Mint
Mint was brought to the U. S. in the 1800s by English settlers. Due to favorable climate, Oregon and Washington became the largest mint growing states in the U.S. by the early 1900s. Today the Pacific Northwest accounts for 84% of peppermint cultivation, and Momo Mint includes local peppermint oil.
Queens Cocoa
When Marie Antoinette arrived in Versaille in 1770 she brought her own personal chocolatier to the court. The "chocolatier to the Queen" layered exotic flavors like orange blossom and almond over the traditional chocolate flavors of vanilla and cinnamon.
Xocolátl
The Mayans and Aztecs of Central America traditionally ground cocoa beans into a paste which was added to hot water along with chili peppers, local herbs, corn, vanilla and cinnamon.  Consumed on special occasions such as weddings and ceremonial feasts, the Aztecs called it Xocolátl.
Momo Cocoa's version of Xocolátl includes premium Dutch processed cocoa, organic cane sugar, organic vanilla powder, cinnamon, allspice, organic cayenne pepper and black pepper.
Cardamomo
Cardamom is one of the world's oldest spices. A warming spice with a pungent, sharp flavor, it is used extensively in India for dessert recipes, as well as being highly regarded as a digestive. It was brought to Scandinavia during the middle ages. CardaMomo™ is Momo Cocoa's version of a classic Scandinavian cold weather treat to warm your days!
Lavender
Known for its soothing, relaxing qualities lavender was historically used to treat insomnia, headaches, and digestive problems. The first lavender plants made their way to America shortly after the first European settlers. This Lavender Cocoa adds a touch of uplifting bergamot, the same citrus which provides the quintessential aromatic quality of Earl Grey tea.
Dark
Bold, yet perfectly balanced, with an incredibly robust depth of flavor, Momo Dark maintains the exceptional creaminess for which Momo Cocoa is renowned. The ultimate cup for serious dark chocolate lovers!
shipping + return policy
What is your refund/exchange policy?
We are happy to refund you for the full amount of the purchase within 15 days of the original purchase date. The item must be in its original salable condition, and in original packaging. After 15 days has passed, items can be exchanged within 30 days of purchase.
A printed or emailed receipt is required for all returns and exchanges. If the purchase was made online, customers are responsible for any additional shipping costs for returns and exchanges. If there is an issue with the product, let us know ASAP.
All custom sales or orders are final sale. No returns, refunds or exchanges.
What is your refund/exchange policy on Last Call products? 
All last call products are final sale and cannot be returned. You will not be able to exchange, get store credit or a refund for these products. 
Can I return food items?
Yes, as long as they are still sealed, re-sellable and within the return period with a receipt of purchase.
How soon are orders processed and shipped?
We typically fulfill orders within 1-4 business days. We ship USPS Priority for all domestic orders.
Do you ship internationally?
Yes! We ship via USPS Priority International, and you can receive a quote at checkout. Please note, there are a few items (such as knives) that we cannot ship internationally.
Meet the Maker
Portland, Oregon
The Momo Cocoa Co. began with a love of cool weather and the comforting feeling we believe goes hand in hand with the season - family gatherings, snuggling under covers, furry friends curled up on your lap and, of course, cozying up with a yummy cup...
VIEW MORE